Allen
Jazma Member

USA
201 Posts
Posted - 01/14/2010 : 07:52:28 AM
---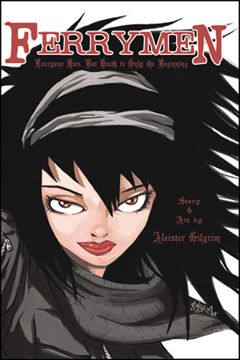 Interview with: Aleister Gilgrim
Creator: Graphic Novel " Ferrymen"
Publisher: Transfuzion Publishing
Interviewed by: Allen Klingelhoets
www.jazmaonline.com
Field Marshal

Allen: Hello, Aleister Gilgrim. Tell me a little bit about yourself. Where do you live? What were some of the comic books that you read in your youth?

Aleister: Currently I live in Pasadena CA (yes, the home of the Rose Bowl, it's literally around the corner from me), but originally, I'm from Anaheim. Growing up I had a real on and off again relationship with comics. I read the usual funnies when I could and some things from the big two that my parents would randomly get for me (did like Iron Man and Dr. Strange especially), it wasn't until I was a bit older and I bought the final issue of 'Grey:Digital Target' that I really started reading them on a regular basis. From there, it was basically anything good that I could get my hands on, which ended up being a lot of untranslated 70's era manga, some underground western comics (I liked the black and white books more than colour) and the beginning era of Viz's line-up. I do remember distinctly liking TMNT a lot too, if that helps...

Allen: How did you realize that you might want to work in comic book field?

Aleister: Oh, I think it was before I was smart enough to know what that could possibly mean. Seriously though, I know that it was something that I wanted to do when I was about 12 or 13. I didn't know if I would actually, really pursue it, but I did want to be a storyteller of some kind, visually if possible. My main examples for paths to take were film, comics and games. Comics was the only one I could really do all by myself without a lot of equipment or other people, so I put my first book together then. I remember my first 2 comics (which were awful) were 'Cloud Walker' and 'Mushroom Kiss'. I really hope that no one has those anymore... at all... ever. But I think it's safe to say that it started then.

Allen: Who were some of your comic book creative influences?

Aleister: Obviously Grey's artist/creator Yoshihisa Tagami was a big one (I still use the same mechanical pencils I saw pictures of him using to this day), Eastman and Laird, Katsuya Terada (although I didn't know who he was exactly at the time or how much of his stuff I was being exposed to), Rumiko Takahashi, Clamp, Hirohiko Araki, a bunch of manga-ka I don't think I ever bothered to learn their names, James O'Barr, Jeff Smith, Gary Larson, Berkeley Breathed to name a few. There were a lot, but I didn't really get fan-boyish enough to keep track of who the creators were and try to purposefully track down their stuff until I was quite a bit older. By then some of my tastes had changed considerably.

Allen: Tell me about your work for Disney. Tell me about your work on "Disney English Project".

Aleister: Basically I'm an Illustrator, Character Designer, Animation Builder, Storyboard Artist and a Jack of All Trades (most of us in the Creative side are multi-position/responsibility). Easiest way to explain what I do (which isn't easy to explain thoroughly, sorry) is to just know that we create custom animations, music videos and interactive programs utilizing any and all Disney & Pixar licenses/films and we do it in just about every art-style imaginable. Past that, I really can't talk in great detail about exactly what we do or how we do it. I wish I could, it's really pretty cool.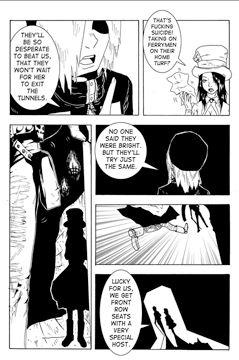 Allen: How did you get your break into comic book industry? When did this occur?

Aleister: Um, 2 breaks, 1 real, 1 sorta'. If I get this right, I think the order goes: Rising Stars of Manga Vol 3 (with Felipe Smith, who I still think should've won) from Tokyopop for my short story 'Dorothy Needs Needles & Knives' (which was the short that 'Ferrymen' was born from) got me out and properly published. It was a competition anthology, one that I'm not sure they're still doing. The other break which came a bit later was through the amazing and beloved SLG (home of JTHM, Gloomcookie, Pirate Club, Milk & Cheese and a ton of great books) where I submitted a pitch for a series I was working on with a friend at the time called 'Brimstone Academy' (courtesy of then cohort Clinto 'Fippo' Rice) which Dan looked at, liked but didn't take on. A little while later I came back with a full issue of the 'Cemeterians' which he did go for and eventually published until it had enough content to be put into a collected GN.
As for the 'how' I think the best way to explain it is that I did a lot of pounding the pavement, a lot of networking, a lot of drawing, a lot of being disappointed and a lot of buying drinks... even having friends in the industry doesn't help all that much for getting in (but they're excellent shoulders to cry on and good folk to get advice from!).

Allen: Did you have any special training or were you self-taught? What is your specific ability (writer, artist or other positions)?

Aleister: I don't think I had any special training. I only took, I think maybe, three art classes of any type before I went to college. I did get my degree in Studio Art, but that only means I'm a classically trained artist (we weren't allowed to use computers for our core course work, it was more about making stuff for galleries). I did take some appreciation classes and an illustration class, but everything I learned I either studied from other people I knew who were doing it, or by teaching myself and learning from the comics, manga and other visual storytelling I was into/exposed to.
I think my main ability is as an artist. I don't know if I'm better at designing characters or doing them justice in sequentials, but I'm sure that my strength is found on the visual side more than the writing side. But I do love writing too, don't get me wrong. I truly love it. I just think I'm at a strange point in my personal growth as a creator where I can see where I'm lacking versus where I want to be. I have a long, long way to go before I'm truly happy with my output.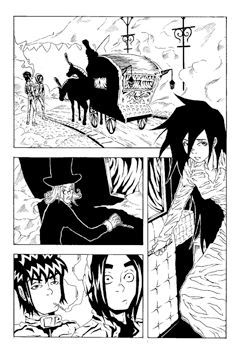 Allen: I want to focus on your upcoming graphic novel called "Ferrymen". First, how did you bring project to Transfuzion Publishing?

Aleister: I actually found this site (which I looked again and now can't find, but I'm sure it's there) that listed, literally, every publisher of comics great and small and gave their contact and submission info. It also gave some brief details about what and how they published. I went through that site from top to bottom and cold-called, shotgun blasted a pitch (of the entire, completed GN) to every publisher on the list that I thought might possibly be interested in the material. I got some very nice responses back and a couple of interested publishers, but when I heard back from Gary Reed and started talking to him about his imprint and his take on my book, I made the decision rather easily. I really wanted to find the book the best home possible, and I know that I did that through Transfuzion. So, yeah, basically a straight, old school cold-call.

Allen: Why do you feel Transfusion Publishing was right choice for your project?

Aleister: I think that has to do with the level of care that Gary personally brings to the imprint itself. He's been extraordinarily cool and helpful and obviously has deep and meaningful love for the medium, not just where it's been or where it is, but where it could be if we all get our collective acts together. So, to me, the reason I feel that Transfuzion's the right home for this book is probably 90% to do with Gary himself. The other 10% is mostly me being a geek and digging the fact that the other book Trans' putting out with 'Ferrymen' is a Lovecraft GN. Makes me smile huge.

Allen: Tell me about where the "Ferrymen" idea came from? Who are the "Ferrymen"?

Aleister: The idea came from being in Moscow and riding the old tube system. I was just cruising through the city on a daily basis riding these beautiful, decrepit and old trains and I had the idea of changing the classic River Styx setting to that of an old subway/tube system. From there, the rest is pretty literal, the Ferrymen (Guild) even in the book are still Ferrymen in the traditional River Styx idea, they're the transporters of souls in the afterlife.

Allen: Do you read many supernatural stories?

Aleister: I do. I'm a big horror fan. Lots of of Lovecraft (my license plate claims alumni to Miskatonic University), and my fave book is 'House of Leaves' and my fave author is Caitlin R. Kiernan . So yeah, I think I read supernatural stuff a plenty.

Allen: Do you watch lots of supernatural movies?

Aleister: Yes and no. I grew up with parents who each had a lot of very developed interests and pastimes, one that was heavily shared was cinema. I grew up with movies, a lot of movies. It was something that my family very happily enjoyed together (all 3 generations at the time). Later, as I got older I really developed a taste for horror, and horror culture in general. I think it fully blossomed when I discovered Rue Morgue magazine (the issue with 'House of Leaves' on the cover, I don't remember when exactly that was published) and it's been ongoing and full-bore ever since. I don't know if it's supernatural or just horror that I watch more of, but I watch my fair share no matter how you slice it.

Allen: Have you ever been involved with paranormal investigations? Have you had a paranormal experience?

Aleister: Not that I'm aware of, but what's paranormal to some would never be to others. It's all way to subjective to me. When I was younger I know that there was stuff that I wanted to see as paranormal, but as I got older I look back on those experiences a lot differently.

Allen: Tell me about "Ferrymen" story. Who are main characters? Give me a feel to what you are attempting to tell in "Ferrymen".

Aleister: Ferrymen is the story of a Newly dead named Dorothy who finds herself in the afterlife without any real memory of her previous corporal existence. From there she meets the Guild of Ferrymen (Purgatory, respectively) and is almost immediately thrust into a high-stakes game of cat and mouse with Heaven and Hell itself. Sorry, trying not to give too much away for anyone who is going to read it.
For me, the point of the story was simply playing with how ends justify means and means justify ends to different people and different views. There're a quick couple of bits of dialog that specifically talk about the need and acceptance of messiahs and what that means to people (specifically the characters themselves in this case) and to groups and how that effects them. If I had one theme set out for Ferrymen it would be that.

Allen: Do you envision spin-offs from "Ferrymen"? Or will this be one-shot graphic novel?

Aleister: Originally it was intended to be this giant 3-part series, just for the main storyline, that would also include the possibility for side-stories along the way. But, that idea was a long time ago, half a decade ago in fact. Since I've been living with this book in one iteration or another for so long, I'm mostly just ready to put it down for a while and go on to something new, something different entirely. But, of course, should it find a big enough audience that wants to delve more into that world and those characters and I can literally afford to make the stories, I will gladly do so. The world in 'Ferrymen' is pretty developed, deep and rich and worth exploring (in my bias opinion at least).

Allen: Who is artist for "Ferrymen"? Will book be colorized or be black and white? How can readers see preview art pages?

Aleister: I'm actually artist, writer and generally the one to blame entirely for 'Ferrymen'. It was conceived as a b&w book with a very specific, stark & high contrast look to it and will be published in that way (which I'm quite thankful for). Anyone who wants to check out what the pages look like should please go ahead and head straight to the preview links on Transfuzion's site:
http://www.transfuzion.biz/TITLES/Ferrymen.htm

Allen: What do you feel reader level should be for "Ferrymen"?

Aleister: If you're talking about the suggested reader age, I guess it depends. The concepts are touch on some touchy things, there is violence, there are gender issues, sexual persuasions that some closed-minded people can't handle, a lot of challenging of religion and the old foul language. So I think if the readership is old enough to handle that stuff, say anywhere from a not so flacid PG13 to a halfway decent R then they're fine.

Allen: I want to make sure readers can get copy. I searched and found information in Transfuzion Press release. Ferrymen will ship in March 2010. It is available to order from DIAMOND PREVIEWS (page 296), Order # JAN10 1115 and also will be available from online sites such as Amazon. (ISBN 978-0-941613-38-5)
Are there any special limited variant edition copies not shown in listing? How many pages will story contain?

Aleister: I don't think there are any plans for any alternate or variant versions to be published at this time. But, of course if anyone ever brings me a copy of the book to a show I'm at, I'll gladly give a sketch and whatever else I can do to make it special (no charge of course). The book is right around a solid 160 pg's. There're some extras in the back (sketchbook, making of stuff etc) and I don't remember off-hand exactly how many pages of that there are. Figure it's safe to say that the story is more than 140pg's...

Allen: What kinds of things are planned to promote "Ferrymen"?

Aleister: Right now, just doing the old school grass roots thing. Previews, twitter, my website ( http://halfdeadunicorn.com/ ), Transfuzion's website ( http://www.transfuzion.biz/TITLES/Ferrymen.htm ) and just trying to get people to pass along the info and make their orders through Diamond and/or Amazon.

Allen: What are some of things you like to do with your free time?

Aleister: If and when I get any real free time (which isn't often) I like to hang out with my son, Salem, draw, read, watch movies, hangout with my mates and generally relax. I don't think that I do anything too different from anyone else in that respect. Of course hanging out with my mates usually devolves into some debate/discussion/ribbing, what have you, about film, comics, the Internet and general geekery.

Allen: Do you try to read many comic books at present time?

Aleister: some yes and no. I don't have a pull list at the local shop or anything like that. Mostly what I've been doing lately is discovering other creators who's work I really like and making sure to follow their blogs and journals. It's not a large number, but of those, when I can find 'em, I try and make sure to grab their books too. I tend to buy comics in spurts. I also prefer trades. Honestly, I have a small son (actually he's huge, just under the age of 2) and I don't often have a lot of disposable cash to throw at comics, GN's and Manga like I did when I was younger.

Allen: What are some of your future comic book related projects in works?

Aleister: Right now I'm starting to work on a pseudo-autobiographical-sci-fi-fantasy GN codenamed (cleverly I might add...) 'Book 3' (not so clever, I know...), also I'm looking to do some more devoted offerings for the online medium, as well as throwing my hat into the Zuda ring. Past that, I want to get back into painting again and doing a new series and some new shows this year and tackling a lot of new stuff in my 'day job' realm art-wise. But we'll have to see how that all pans out.

Allen: Do you have website? What is best way to contact you? Also, what is Transfuzion website?

Aleister: Sure do. My website is: http://halfdeadunicorn.com/
Transfuzion's website is: http://www.transfuzion.biz

Allen: What are some other comic book dream projects for you?

Aleister: Well, I'd love to do some collab work with other artist and creators I really dig in general. There're also titles I'd love to work on just for the sake of it. But, right now, if I had to name a dream comic project, I would pick one that had a regular, acceptable paycheck attached to it.

Allen: Do you think "Ferrymen" would make great movie? Who would you like to see play Dorothy?

Aleister: I think it does lend itself to that sort of adaptation. I've said it before, but more than the cast I'd be fascinated with who would be tagged to adapt and direct. As far as Dorothy, I think it needs to be an unknown (or relative unknown) instead of just a name-drop actress... good candidate (in a few years) would be Chloe Moretz (*Hit Girl* in the 'Kick Ass' film adapt)... but who knows. My first concern and excitement goes with the writer and director.

Allen: What fuels your creative spirit to tell stories?

Aleister: I think it comes from being inspired. For me that happens a lot with daydreams and the music that brings those on for me. Also, and obviously, seeing some of the amazing things that other people are putting out into the world, no matter through what medium. Seeing that stuff, discovering it and diving into it really make me want to do my part as well and contribute with my own stuff. If nothing else I hope I'm able to do that for someone as well, even if it's just because they think my work sucks and they can do it better, by all means, please do! You'll only help make the medium stronger.

Allen: Thank you Aleister Gilgrim for this doing interview with me about "Ferrymen". Would you like to leave with any final thoughts about graphic novel?

Aleister: Please buy it...? Seriously, I would just like to ask that anyone who's interested to give it a shot, and if you do like it, or think that someone else might, pass it on. Like a lot of indie books, this one won't automatically get ordered by shops or big chain book stores, it's going to take people actively asking for these places to carry them to get 'Ferrymen' on the shelves. So, if you can, please do. And moreover, make sure to do it for other indie titles too! Thank you so much and thank you to everyone who's supported me in this crazy endeavor over the years not least of which are my mates and my 3 fans (kidding. I don't think there're more than 2, tops). Support small press, and if you do take a chance on Ferrymen, thank you very, very much! If you get a copy, bring it to a show and let me meet you ^__^ I promise to throw in a sketch or two as my way of appreciation. Cheers! I love you all.






jazma online staff member