Silhouet98
Jazma President

USA
2214 Posts
Posted - 04/25/2010 : 7:49:37 PM
---
HPI Placerville Ghost Tour: 2010
By Paul Dale Roberts, Esoteric Detective
www.hpiparanormal.net

May 1, 2010, Saturday. On this day we were supposed to be at Mount Shasta for the Mount Shasta UFO/Bigfoot Hunt, but unfortunately it was canceled because of all the previous rains. The rains caused a big mud hole at the base camp. Shannon 'Ms. Macabre' McCabe decides to accommodate the HPI Paranormal Investigative Scouts with an alternate scouting mission to haunted Placerville.

Photo to the right is:
HPI Placerville Ghost Hunting Squad



Shannon and I met up with the following HPI Paranormal Investigating Scouts: Carmen Flores, Irene Flores, Ralph Flores, Alethia Poso, Carmela Roman. Also showing up is Senior Paranormal Investigator: Kristen Shelley.

I have written about my investigations at Placerville many times over, so I will only write about our stops and various ghost stories at some of the establishments. Here are the stops during our tour:

Cary House: This is where the ghost called Stan resides. Stan was a desk clerk during the 1800s. Stan favored the ladies and even favored good looking men. He was quite flirtatious with both sexes. Stan was also known to have an obnoxious personality. One day, he made a pass at a male client. The male client stabbed Stan twice in the heart. Patrons of the Cary House make claim that sometimes you can hear Stan breathing hard, gasping for air and coughing. Stan is also known to ever once in a while pinch a good looking woman or a good looking man in the rear. If you are asking…Stan didn't pinch me.

The Hangman's Tree Bar: This establishment is now closed. When it was open, many patrons made claims that beer bottles would move across the bar. Women sitting at the bar, would have their hair brushed. If there were 4 women sitting alongside the bar, a ghost would gently brush all 4 women's hair. One day a bartender was making a margarita and the margarita flew out of the blender and fell upon the bar. Another story is that a cowboy named Cactus Joe found his girlfriend with another man at this bar during the 1800s and shot his girlfriend in the forehead, killing her instantly. Because of that, the theme to this article will be Hey Joe by Jimi Hendrix.

Hear 'Hey Joe by Jimi Hendrix' here:
http://s0.ilike.com/play#Jimi+Hendrix:Hey+Joe:17257:s14550.14438510.10780624.0.2.287%2Cstd_b3e5554776bb43d8bab55a31f51b0713

Metal Dragonfly (formerly Hidden Passages Bookstore): Craig Miler and his girlfriend from San Francisco were tourists in Placerville. They stopped at the Hidden Passages Bookstore. Craig told his girlfriend that the bookstore was haunted. His girlfriend blurted out…"there are no such thing as ghosts!" A book then came off the book shelf, fell to the ground face up. The book was about ghosts. Note: There is a similar story like this in San Diego. I found this quite odd.

Cascada Restaurante Catina: A woman patron goes into the restroom and sees a woman gagging. She runs out and tells her husband that there is a woman in the restroom choking on her food. The woman patron and her husband enter the bathroom and there is no one in the bathroom. The ghost is called the Gagging Woman Ghost.

Olde Tyme Candy and More (formerly Empire Antiques): A woman named Shirley Vasquez walks into Empire Antiques and takes an old clock from this establishment home. The clock is haunted (this is referred to as psychometrics), when there is energy around an object and the entity is attached to the object. The woman's home becomes haunted. Activity in her home were moving furniture, knockings on the walls, footsteps heard. The woman had enough and brings the clock back to Empire Antiques. The haunting at her home ceases. Leonard (Leo) the Projectionist is sometimes seen in the projectionist window.

Gothic Rose Antiques – just a cool place to visit.

Placerville Historical Museum – another cool place to visit and learn all kinds of history about Placerville. They will tell you stories about Snowshoe Thompson who delivered mail back in the 1800s. Snowshoe was born in 1827. He came to California by the lure of gold. Snowshoe became a local legend, because he would take 80 to 90 lbs of mail on his back, wearing his snow skis. He would start off from Placerville and finish up at Genoa, Nevada.

Round Tree Pizza – great for bathroom breaks and pizza!

El Dorado County Chamber of Commerce. It has the reputation of being haunted. I don't know the history of the hauntings.

Powell's Steamer Company and Oyster Bar – cool place to get a beer and another great bathroom stop!

The Empress: Carolina Smith runs this establishment! Spectacular women's clothing line with the touch of gypsy and New Age. The Empress is located at 582 Main Street, Placerville, CA 95667 (530) 344-3631 Email: CarolinaSmithEmpress@yahoo.com - Carolina Smith is friendly, sweet and helpful. You will not be able to resist shopping in this store and it's right next to the Cozmic Café! The Empress is right here in Placerville, but if I didn't know better, I would think I was in a clothing store on Hollywood Boulevard. This is a kind of store that celebrities would love and what is even more surprising, the prices are soooo reasonable! Check it out when you come up to Placerville, you won't be disappointed!

The picture to the left is:
The Gorgeous Carolina Smith!



Cozmic Café: A young boy in the 1800s gets crushed by the hydraulic lift. His spirit is seen around the establishment. A miner ghost is seen in the tunnels. While we were there, a male patron tells us a ghost story from Pennsylvania. He tells us about the Maple Grove Hotel. He tells us at this hotel an American Indian is lynched and hung at the fireplace of the hotel. To this day, people see the Indian walking through the hotel with their peripheral vision. At this hotel, the breaker switches are constantly shut off by the Indian. If you have a chance check out the Cozmic Café, the food is GREAT and the service is friendly. Danielle Chapman is a cook at this establishment and she always has a big warm smile for the customers! Danielle and the rest of the staff provide excellent customer service! The Cozmic Café is very, very enchanting! I will soon have a scouting mission at the Cozmic Café, so let's see what kind of evidence HPI will find at the fabulous Cozmic Café!

Placerville Union Cemetery: We get 2 EVPs at this location. One said 'whhhhhyyyyy?' and the other says 'I'm here', when asking 'Is anyone here?'

Sequoia House: We get one EVP of a man whistling. This is the place where a woman client is brushing her hair in the mirror and sees a full body apparition of a woman behind her. There are more stories, that I won't get into because the Sequoia House has been written about many times over.

After the tour, Shannon and I ended it by heading over to the Darkness (Goth Club) – Necropolis in Old Sacramento. I partied with The Darkness Creator/Headliner DJ Natalie Liquori, Shannon, Carol Gillis, Francine Ures, Yolanda Fowler. We all tried out the watermelon flavored Hookah tobacco that is smoked in the patio. What a unique experience.

Placerville Haunted Tour & The Darkness Photos found here:
http://s643.photobucket.com/albums/uu157/PaulDaleRoberts_2009/PlacervilleDarkness/

HPI Paranormal Investigator Jennifer Newell aka Phasecide - Drawn by Jazma VP Richard Vasseur!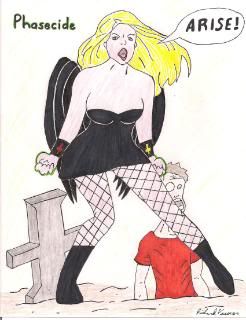 Kimberly Phillips of CVParanormalSearchers photos from Valencia Club investigation:
http://s869.photobucket.com/albums/ab256/CVParanormalSearchers/Valencia%20Club%20Investigation/

Sherry Andersen's photos from Valencia Club Investigation:
http://s776.photobucket.com/albums/yy45/sherryaphotos/Valencia%20Penryn%20Apr%202010/

Paul Dale Roberts, HPI General Manager
aka The Demon Warrior
Shannon McCabe's HPI (Haunted and Paranormal Investigations International)
www.hpiparanormal.net
http://www.chatterbrew.com/
Chatterbrew!
Email: pauld5606@comcast.net
Cellular Paranormal Hotline: 916 203 7503
If you have a possible investigation call: 1-888-709-4HPI