Richv1
Jazma V.P.

Canada
6742 Posts
Posted - 07/23/2010 : 5:20:28 PM
---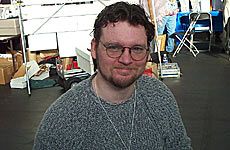 Richard Moore
Creator/Writer/Artist for Boneyard Vol.7
Published by: NBM
Interviewed by: Richard Vasseur/Jazma VP
Posted: 07/23/2010

RV: What is Boneyard Vol. 7 all about?

RM: A childhood friend of Paris' --- who turns out to be an actual faerie princess --- shows up asking for his help. She's betrothed to an evil little creep of a prince from a rival royal house, and she wants Paris to save her by marrying her. Paris, Abbey and the gang are drawn into the middle of a potential war in the realm of Faerie.



RV: What are Michael and Abbey's personalities like?

RM: Paris and Abbey are islands of sanity among the rest of the cast. Abbey's been around for 2,000 years, and has experienced just about everything, so she's good at just rolling with the punches. Paris is an amazingly tolerant guy. The two of them have sort of fallen unwillingly into the role of parents to the rest of the gang. They clean up messes, and impose some order on the chaos. Not a very thankful or glamorous role, but without them there would be no "normal" to contrast the wackiness.



RV: How would you describe your sense of humor in Boneyard?

RM: I try to provide a range of humor, from physical gags to playing with language and people's expectations. I'm something of a comedy aficionado ---my biggest celebrity encounters at Comic-Con weren't comic creators or even movie stars, but Patton Oswalt and Dana Gould, two of my favorite comedians. Ultimately, though, my work is almost always character-based, so the humor is dictated by their personalities.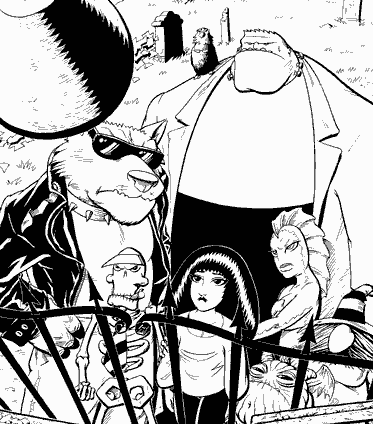 RV: How did you originally come up with the idea for Boneyard and how do you feel now that it is finished?

RM: Well, it's not really finished, just on hold. I'm not really sure where the idea came from. Abbey, Paris, Glump and Brutus had been rattling around in my head and on my sketchpad for awhile, as parts of different projects. Abbey in particular had appeared in at least three other projects that never came to fruition for one reason or another. Somehow they all came together and everything fell into place.



RV: What will you be working on next?

RM: That's always a tricky one to answer. I have literally dozens of other projects, and it's a matter of deciding which shows the most promise at a particular time. Right now I'm working on the second miniseries about a character called Chip. He's a gargoyle about the size of your fist, with aspirations of becoming the scariest gargoyle in the world. Chip's adventures often involve his faerie friend Ash, a cat named Burble, who's in love with Chip, and the incredibly patient other gargoyles who live on the farm where they were sculpted. Last time he tried to contact the ghost in the local haunted house; this time he's on the trail of the Jersey Devil…and venturing into forbidden parts of the forest in the process.

After that, I'll be doing either Billfur, the Pixaresque story of a platypus lost and alone in a North American forest, or Gobs, about a group of outcast goblins who open their own pub in the hollowed-out body of a dead giant.



RV: Besides Boneyard, which comic are you most proud of and why?

RM: I don't think of myself as being proud of my work --- all I see are the mistakes I made, the unachieved potential of a given title. Simply as an accomplishment, the first four-issue Far West miniseries probably comes closest. I really didn't know what I was doing, had never used screens before, and I'd never had to create a comic on a deadline before. Worst of all, this was in the summer, and we had no air conditioning. It was 105 degrees or hotter in our house every single day --- and I'm not a hot weather kind of guy. I actually did some of those pages while sitting in a cold bath. Just the fact that I finished the series and made my deadlines was amazing.



RV: Why do you like to do some mature titles?

RM: Given how large a role sexuality plays in our lives, I've always felt that the subject should be fair game for exploring through the arts. Unfortunately, the genre pays so little that most of what you see is crap; very little effort is made to elevate the genre above basic T & A. I always try to do the best work I can, whether it's all ages, mature, or adult. And my adult work has always been fun and positive, not sleazy and filled with violence and misogyny. I've been pleased that my adult work has consistently been popular with female readers. Unfortunately, adult comics are a dying form in the U.S., so I don't see myself venturing there much in the future.



RV: Who will enjoy Short Strokes? What will we find in its pages?

RM: Like all my adult collections, Short Strokes is a grab bag of fun, sexually-oriented shorts, with the emphasis always on humor. If you like laughing and sex, you'll dig Short Strokes.



RV: Why did you enjoy creating the comic Far West :"Bad Mojo"?

RM: It was a blast getting back to Meg and Phil, the central characters from Far West. Their playfully antagonistic relationship is always fun to play with. Curiously, "Bad Mojo" was originally printed –quite by mistake—with pencils only, no color. The black-and-white penciled version may wind up being a weird collector's item.



RV: Why will people want to read Chip?

RM: Chip is my first truly all-ages title, so hopefully both kids and adults will like it. Especially if you like headstrong, blindly optimistic underdogs who never quit … even when they should!



RV: What do you like to do to relax?

RM: I'm sorry --- "relax"? What is this "relax" you speak of? In theory, if I ever had time to relax, I'd like to try summoning ancient and arcane demigods, tamper in God's domain with wildly unethical chimeric gene splicing, and, uh, sculpt. I like to sculpt.



RV: How did you make your start in the comic book industry?

RM: Pretty straightforward, really. I had lost my day job, so I decided to really dedicate myself and see if I could get into print. I researched some of the smaller independent publishers, and sent out some shorts as samples of my work. I got one rejection, but the next two submissions were accepted. It helped that I wanted to do my own titles, as opposed to working on huge books like "Spiderman" or "Batman". It can take forever to break in if that's your goal. The pay is much better, but I've never been interested in working on someone else's characters.

RV: How can someone contact you?

RM: They can go to my fansite Richard_moore_fans@yahoogroups.com, or go to my own website at richardmooresart.com, if that happens to be working, or they can reach me directly at richardmooreart@sbcglobal.net.



RV: Any final words for all your fans?

RM: Just, thanks for the support, and stay tuned, there's lots more coming.






Richard Vasseur