Silhouet98
Jazma President

USA
2214 Posts
Posted - 05/25/2011 : 11:57:31 AM
---
Cafe Americana: Blues and Burlesque
By Paul Dale Roberts, HPI General Manager
www.hpiparanormal.net

May 26, 2011, Thursday. It's a weeknight, but Shannon McCabe talked me into a strange night that consisted of a candlelight party at her home and later a Blues and Burlesque Night out-on-the-town at the Crescent Club aka Cafe Americana in Old Sacramento. Shannon served up cheese, chicken nuggets, Sangria, crackers while the host of this candlelight party showed us various fragrances of candles.

They had all of these romantic themed candles and I only could wish for candles with a more manly touch, such as fresh cut grass candle, motor oil candle, Chevron diesel candle, BP Oil Spill candle or maybe candles that dealt with my line of work..the paranormal, such as sulfur candle, garlic-to-ward-off-vampires candle, etc.

No such luck, none of the fragrances I wanted were there. So I was ready to head down to Old Sacramento and check out this Blues and Burlesque Show. The entree waiting for us was everything from grilled shrimp, smoked salmon, smoked sturgeon, Brie cheese, Manchego cheese and more. The entree was all complimentary, courtesy of the Crescent Club. Also complimentary, was the variety of sugar cubes on fire as we tried out the different flavors of Absinthe.

Natalya Wahba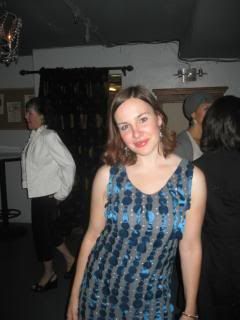 I made my rounds to get the feel of this place and came across Cafe Americana employee Nicole Brueckner. Nicole is a stunning and attractive lady! She has been employed with the Cafe for 2 months and absolutely loves the place. She is one of the hostesses and loves checking people in. She says that all of the employees consider this place as a second home and they all feel like family. She says that Cafe Americana is a touch of Casa Blanca, Roaring 20s and flappers. She can't think of any place better than working here.

Nicole, Shannon & Gayb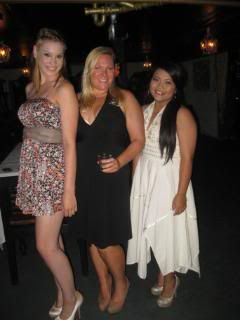 The next person I interviewed was Gayb Cordero, she sang in between the burlesque shows. She started off as a singer at the age of 4. Singing is a release for her, an outlet. I give her major kudos on her singing. She sang like an angel. She sings a variety of blues, jazz, R&B, folk and pop. The singer that inspired her is Adele. If you ever want to book this gorgeous lady for an event, contact her at: gg.cordero@yahoo.com

Pictures from Cafe Americana/Crescent Club
Blues & Burlesque
http://s970.photobucket.com/albums/ae185/PaulDaleRoberts55/CrescentClub/

Tomorrow I have to work, so I did a couple more interviews. I interviewed patron Sarah Bruner. She told me that she really enjoyed the burlesque show, it was done tastefully and with class and then she told me to look around. She then said: "Don't you see? You are amongst people with class, I love it!" Sarah was quite right, everyone was dressed their Sunday best, this place really does have a European flavor to it.

I spoke with the elegant soft spoken sensuous owner named Natalya Wahba. She is from the Ukraine and her accent is to die for. Her accent alone is enchanting, inviting and will make a single man have a mild stroke. I did 3 videos of her and forgot to hit 'record'. Dummy me. I was asking what her goal was for the Crescent Club and one of her goals is to have a place that entertains the senses. She is accomplishing that with her delicacies, beverages..the sense of taste. The smell of tantalizing smoked salmon, the perfumes of beautiful women as they walk past you at the bar area..the sense of smell. The smooth sound of jazz or the blues...the sense of sound. The beautiful decor, the touch of Europe, the touch of the 20s, the touch of a Harlem speakeasy..the sense of sight. Natalya checks in the elite of Sacramento and other people from far corners of the world. Everything you want is here at the Crescent Club, a touch of Paris, a touch of Venice, a touch of Naples, a touch of Barcelona. If you want escapism, I highly suggest the Crescent Club!

BELOW ARE HPI UPDATES, NEWS AND GOSSIP!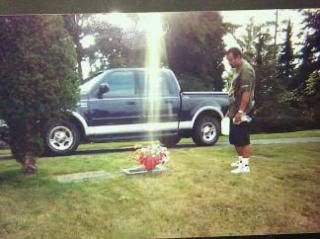 Submitted by Gina Vega - Possible Angel Photo or Sun Reflection?
You Decide!

http://www.youtube.com/watch?v=7MhK4WEGt-M&feature=youtu.be
Death Lingers in Fairfield Video: Dowsing Rod Experiment

Paul Dale Roberts, HPI General Manager
aka The Demon Warrior
Shannon McCabe's Haunted and Paranormal Investigations International
www.hpiparanormal.net
http://www.lorenasangels.com/
Lorena's Angel's Cards by Diana Lorena Valencia Riomana
Managed by Staci Butler, HPI Twitter Account Manager/HPI Senior Lead Investigator
Dark View HPI Videos
http://www.youtube.com/user/DarkviewProductions
Chatterbrew!
http://www.chatterbrew.com/
Email: pauld5606@comcast.net
Cellular Paranormal Hotline: 916 203 7503
If you have a possible investigation call: 1-888-709-4HPI