Silhouet98
Jazma President

USA
2210 Posts
Posted - 10/13/2011 : 5:23:14 PM
---
Message from the President
Paul's Incoherent Ramblings
Jazma Universe Online!
http://www.jazmaonline.com/
October 15, 2011 Vol 15 #131
Next Issue: Dec 15, 2011 Vol 15 #132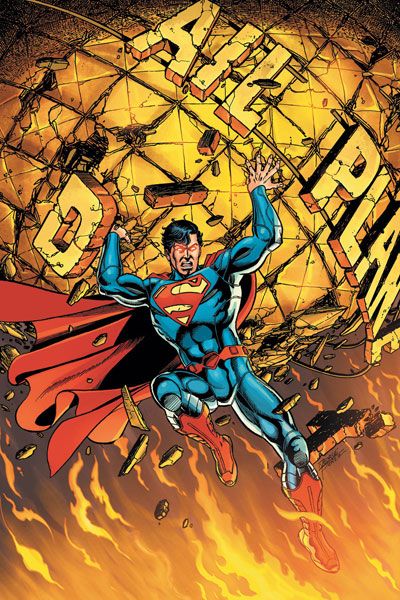 Title: Superman # 1
Publisher: DC
Script & Breakdowns: George Perez
Pencils & Inks: Jesus Merino
Colorist: Brian Buccellato
Letterer: Carlos M. Mangual
Cover: George Perez & Brian Buccellato
Price: $ 2.99 US
Rating: 3 out of 5 stars
Website: www.dccomics.com
Comments: We get a look at the Daily Planet which has just been rebuilt. It does look amazing. It is also sad to see the old Planet demolished. All the main players are introducted in short order. Superman himself is presented as a quite individual one who is apart from his fellow humans.
Clark is dead set against Morgan Edge and what he is doing with the Daily Planet. Sometimes change is necessary in order to survive and sometimes its hard to go along with it.
The changes to Super man's costume are not big but they are noticable. His belt is now red, his costume has lines, the collar is different and the red shorts are gone. The new design does still look impressive and the big red and yellow "S" shield is still there.
As Superman battles a fire alien we notice that he has to push himself that he is not all powerful. Superman has to push himeself and show us why he is Superman. Reading the words "This Is A Job For Superman" is inspiring.
Lois Lane certainly is no powderpuff. She is good and knows it.
There is some drama between Lois and Clark.
The action is used to show how Superman is ready to act on an epic scale to impress others to save the day. Its not so much about him saving people as it is about him impressing others. And that is just not the way Superman should be.
The comic shows lots of potential but it certainly needs work. Superman is an icon figure lets hope this comic can rise to meet that.
Superman is a truely heroic figure.



Title: Flash # 1
Publisher: DC
Story by: Francis Manapul & Brian Buccellato
Art by: Francis Manapul
Colors: Brian Buccellato
Letters: Sal Cipriano
Price: $ 2.99 US
Raing: 3 out of 5 stars
Website: www.dccomics.com
Comments: As Flash goes into action he is a blur of red and yellow. The differences in the costume do work. Barry Allen the Flash we get to see a part of his life not just the super-hero part. His job and his love life.
The comic is nice and cleanly illustrated. The Flash seems to be more realisticly drawn when running. We could have used a little more action this issue.
His meeting an old friend turns into something much different than expected.
The small lightning that appears around him as he runs looks great it is a good effect.
Barry Allen, the Flash is back and in perfect running form.

Richard Vasseur

Jeani Rector says to stop by:
www.facebook.com/people/Jeani-Rector/100000446637859
The Horror Zine website: www.thehorrorzine.com

Jazma League of Justice, Members Count: 20
Latest Count: Jazma Man aka Paul Dale Roberts, Jazma Girl aka Patricia Mary Roberts, Captain Golden Age aka Jon Gilbert, The Canadian aka Richard Vasseur, BC Jazma aka William Carlisle, Groovy Agent aka Lloyd Smith, Kendra the Jungle Girl aka Kendra Larry, The Mark aka Mark Cardoso; The Point Master aka Darrell Goza, The Jazma Controller aka TW Montgomery - The Webmaster, What's-Happening-Man aka Steve Skeates, Ridelia aka Debra Lynn Scott aka Dee Kee, Proton-Man aka Jeff Clifford, Ryan the Great aka Ryan Crouse, Dynamo Doyle aka Tommy Doyle, Blue Aero aka Bruce Cashman, Heavenly aka Harmony Kennedy; Red Moon/Red Thunder aka Luna Roja/Juan Manuel Perez; Scarlet Flare aka Elena McEntee; Thai Temptress aka Becky Inthavong! Note: Captain Golden Age, Blue Aero, Ridelia and The Mark have departed and are working on solo superhero careers! Proton Man is on a solo adventure against an adversary named Evil Lilly – last status known: Proton Man is now missing in action.

Everyone - check out Star Verse Comics at: http://www.starverse.ca
This site belongs to Jazma Staff Member Ryan Crouse! A very cool…I mean cool site! Email Ryan at: star_verse@hotmail.com

Staff Profiles - Jazmauraders!!:
Partyin' Paul Dale Roberts, President, Publisher, Jazma - Elk Grove, CA Office
Email Addresses: Xenareel@yahoo.com, PaulDale55@yahoo.com, pauld5606@comcast.net, proberts@dfg.ca.gov
Cellular Phone Number: (916) 203-7503, Work Phone: (916) 928-5848
Rowdy Richard Vasseur, Vice President, Illustrator, Reviewer/Critic, Mediator: Jazma Canadian Office
Email Address: richardv@sympatico.ca
Wonderful Warren Montgomery, Jazma General: Webmaster, Jazma - Oregon Office
Rockin' Ryan Crouse, Jazma Czar, Jazma Special Agent: Illustrator: Jazma Canadian Office
Email Address: star_verse@hotmail.com
Jolly Jeani Rector: Princess of Jazma – Jazma Storyteller: 10833 Folsom Blvd, Apt 139, Rancho Cordova, CA 95670 /600-9229, jeani.rector@dot.ca.gov
Joltin' Juan Manuel Perez, Jazma Lieutenant Colonel: Poet & Illustrator/ Jazma Texas Office. Address: PO Box 70
La Pryor, TX 78872-0070 Email Address: Gotobulldog87@yahoo.com
Ravishin' Ron Fontes, Artist/Writer – Jazma Special Operative. Critter Publishing Inc; PO Box 585; Readfield, Maine 04355 Email: soniccomics@gwi.net
Astonishing Allen A. Klingelhoets; Jazma Field Marshall/Interviewer; 9 South 9th Street; Barron, WI 54812-1611; alklingelhoets@hotmail.com

The Legendary Dark Silhouette says:
What Comic Book Websites are Hot!
Star Verse http://www.starverse.ca
Robert Crain Investigations www.arcyinvestigations.com
Jeani Rector www.thehorrorzine.com

The Canadian says: Libraries that are accepting the PCBN:
Attn: Randy Scott/Special Collections Attn: Rosemary Cullen
Michigan State University Library Brown University/John Hay Library
East Lansing, Michigan 48824-1048 Box A, Providence, Rhode Island 02912

The Ohio State University
Cartoon Research Library
27 West 17th Avenue Mall
Columbus, OH 43210-1393

Gary F. Kurutz, Principal Librarian - Special Collections
California History Section
California State Library
PO Box 942837
Sacramento, CA 94237-0001

Browne Popular Culture Library
University Libraries
Attn: Dr. Nancy Down - Head
Bowling Green State University
William T. Jerome Library, 4th Floor
Bowling Green, Ohio 43403-0170

Terri J. Goldrich, Curator
Alternate Press Collection
Archives & Special Collections
Thomas J. Dodd Research Center
405 Babbidge Road
University of Connecticut Unit 1205
Storrs, CT 06269-1205

Copyright Office - 407 Deposits
Library of Congress - 101 Independence Ave SE
Washington, DC 20559

Department of Special Collections
McFarlin Library
The University of Tulsa
2933 E. 6th Street
Tulsa, OK 74104-3123

Special Collections Dept. 600
Bird Library
Syracuse University
Syracuse, NY 13244-2010

Important Disclaimer from Kendra the Jungle Girl:
All material submitted for the PCBN, belong to their respective owners and copyrighted by their respected owners. Some material may have an adult content, please review, before allowing your children to read the PCBN. All Jazma Universe characters are copyrighted © 1996 - 2011 Register of Copyrights - Library of Congress. Peoples' Comic Book Newsletter, Jazma Comics, Jazma Universe Online!; Jazma Online!; The Legendary Dark Silhouette; Jet-X; Lilau; Jazma League of Justice and all created products of Jazma Comic Book Newsletter Productions are © copyrighted with the Register of Copyrights - Library of Congress 2011.

Jazma Universe is Immortal!

Paul Dale Roberts, Jazma Skip Tracer // Jazma Universe Online! / Peoples' Comic Book Newsletter