Richv1
Jazma V.P.

Canada
6737 Posts
Posted - 02/01/2012 : 1:14:17 PM
---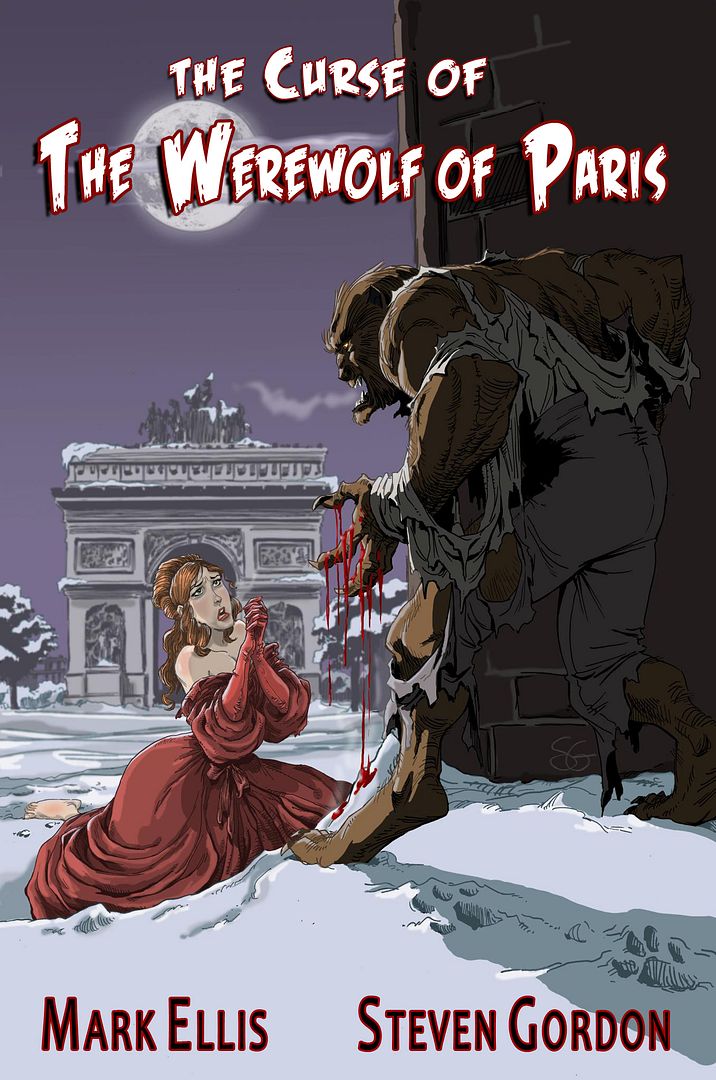 Mark Ellis, "Adventurist Extraordinaire."

Author/Novelist/Writer
Interviewed by: Richard Vasseur/Jazma VP
Posted: 01/02/2012

Rich: How did you end up with the nick name "Adventurist Extraordinarie"?

Mark: About ten years ago, a fan of my Outlanders novel series referred to me that way in a review...a couple of other fans picked it up, so I went with it. I thought it was catchier nickname than "That polecat whut rites them Outlands books."

Rich: What are the main differences in writing a novel to writing a comic?

Mark: First and foremost, It's much more funner process!

I think and write very visually--which is one reason why Outlanders became so popular. But the main difference is of course with writing comics (or the "graphic narrative"), you're using a form of visual shorthand. In prose, when you set a scene, you have the luxury of describing character's facial expressions and the weather conditions as well as smells and sounds.

You can take a couple of manuscript pages for that.

In comics, all that information has to be conveyed in as few a panels as possible and so you have to rely on the artist to get that across.

My preferred method of creating a comic/graphic novel is the thumbnail layout method. I really don't enjoy writing comic scripts--it's a very mechanical process--and most artists I've worked with don't like reading them.

So, I lay out a page with rough--even laughable sketches-- of all the action, indicating where captions and dialogue balloons should be placed.

Not only does this method provide the artist with a visual touchstone, I'm able to have better control over the pacing and where to place the text. Also, the artist has the option to totally ignore the layouts and go his own way. But most of the time, the artist uses the basic concept of my layouts.

I've been fortunate--even blessed--to have collaborated with a number of great artists over the years. Most people don't realize that I've been creating and writing comics on-and-off since the mid-80s...like Doc Savage.

I've worked with Jim Mooney, Adam Hughes, Darryl Banks, Don Heck, Mike Wieringo and more recently Pablo Marcos, Jeff Slemons and Ted Slampyak and David Enebral.

I enjoy collaborating with artists much more than working alone and hammering out word pictures in cold prose. I've written 50 books over the last 15 years, so getting back into the "graphic narrative" makes me feel like I've finally escaped from Shawshank Prison.

www.MarkEllisInk.com



Rich: You wrote Outlanders --what is this paperback series about?

Mark: Although it's often considered a "post-apocalyptic" men's adventure series, it's more of a deconstruction of that sub-genre.

In 1995, the former executive editor of Gold Eagle, the so-called "men's adventure" imprint of Harlequin asked me to create a new post-apocalyptic series because in the late 80s that type of fiction was very popular.

From the 70s through at least the mid-90s, most mass-market publishers had their own midlist "men's adventure" series...Pinnacle started the trend with the paperback vigilante genre with The Executioner and The Destroyer.

For about a decade there were scores of those kind series from various publishers, then with the success of Jerry Ahern's The Survivalist, the post-apocalyptic genre became at least as popular as the vigilante.

Gold Eagle put out the Deathlands series and I wrote a few of those. On the basis of those books, I was asked to create another series in a similar vein.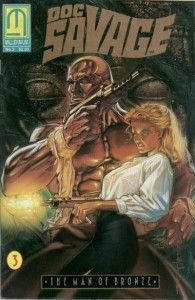 Although I took the basic trappings of the post-nuke template, I determined from the outset to go in a different direction...mainly make Outlanders a big, SF adventure epic, patterned far more on Doc Savage or Terry and The Pirates than the other paperback series of the same ilk.

I created a core cast of characters with senses of humor and personality quirks...I borrowed storytelling techniques from comics and had book-to-book continuity and subplots that ran through several novels.

Kane, Grant and Brigid Baptiste have the prerequisite survival skills, but they're also smart, witty and multi-dimensional. They're heroic in the extreme, but they also have ordinary, everyday concerns.

I raised the overall IQ level by several points over what had become the accepted lowest common denominator norm for paperback postnuke adventure (particularly Deathlands) and came up with big stories and big villains. I set stories on Mars, on the Moon, in space, in China, in the Amazon, even in a colony of Atlantis.

I had no interest in writing in formulized A to B plots about one group of survivalists murdering another group of survivalists over a cache of Spam while fending off attacks from biologically impossible mutant rats, bats and wombats.

Outlanders is called the "thinking man's action-adventure series" and I'm gratified by that because I had always had that as a goal.

I guess my approach worked...Outlanders has been consecutively published for fifteen years, making it the most successful ongoing mass-market paperback action series published in the last 20-plus years.

Because almost all major publishers did away with their midlists a few years back, Outlanders is also the last of its kind and I'm pretty much the last of the breed.

Outlanders is the last original "men's adventure" paperback series published by a major house that was created and primarily written by a single author instead of a committee of editors and freelancers.

I don't know if I'd call that "single creator/author" status a legacy, but I was startled when a fan remarked that regardless of the James Axler pen-name, I'm in the same class as Don (The Executioner) Pendleton, Warren (The Destroyer) Murphy and Jerry (The Survivalist) Ahern.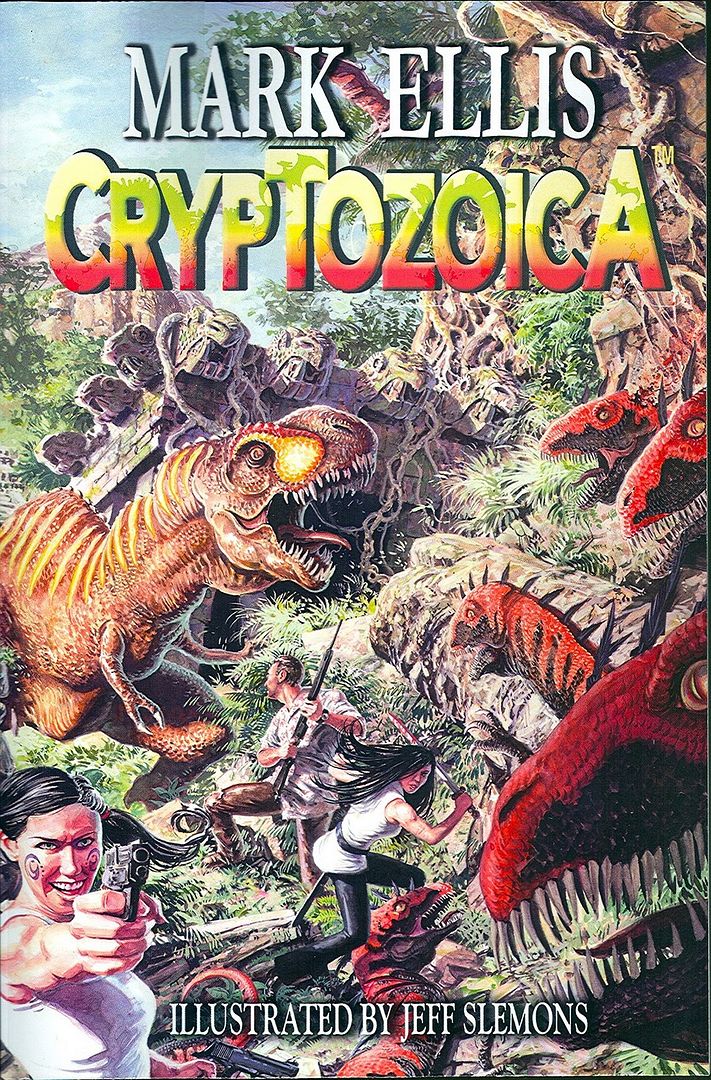 Rich: You wrote Cryptozoica how did you decide this was what you wanted to write about?

Mark: It derives from my years writing Outlanders ...in a novel entitled Tomb of Time, I introduced an island called Thunder Isle (a tip o' the hat to the second Doc Savage novel, Land of Terror) that had been the base of time-travel experiments a couple of hundred years before and the "temporal dilator" was reactivated and running wild, snatching creatures from all epochs.

I also noticed that according to the Outlanders royalty statements, all of the books that featured Thunder Isle enjoyed a spike in sales…not to mention the positive reader response those books received.

Then, after seeing the Peter Jackson remake of King Kong, I decided to write not just a modern lost world novel, but one that could be accepted as plausible by the scientific standards of the 21st century. I researched any and all theories that could be used as a speculative springboard for dinosaurian survival and came to the conclusion that it's actually possible that some form of dinosaurid lived—and may yet do so– contemporaneously with humans.

Even now, there are regular reports of "cryptids"…sightings of cryptozoological animals resembling dinosaurs that come in from all parts of the world. There are popular TV shows devoted to the cryptozoology, such as Monsterquest and Destination Truth.

I wrote Cryptozoica as if I were writing it for the old Fawcett/Gold Medal paperback original line–tough and hard-hitting characters in a story about greed, savagery and violence, of riches and sudden death and even of redemption. But cool…very jazz-cool.

When it came to the two main male characters, Tombstone Jack Kavanaugh and Augustus Crowe, my mind kept returning to a blurb from a sadly under-appreciated hardboiled detective film from the 1970s written by the late Robert Culp, titled Hickey and Boggs.

The blurb was: "They're not cool, slick heroes…they're worn, tough men. And that's why they're so dangerous."

But I wanted Cryptozoica to have added value, so after discussing it with the uber-talented artist Jeff Slemons, the decision was made to turn Cryptozoica into an illustrated novel in the grand tradition.

Jeff is a well-known illustrator in the RPG field, one of the best dinosaur artists around and a very intelligent, perceptive guy. He understood exactly what Cryptozoica is—a bare-knuckled, epic adventure with heroes, heroines, villains and man-eating monsters. His artwork is very influenced by the Frazetta school of illustration. He was very enthused about the project and his enthusiasm even pumped me up. I was blessed to work with him.

Rich: Do you find dinosaurs fascinating and why should others?

Mark: I think the concept that the Earth was ruled for many millions of years by creatures that could and would view humans as Lunchables is one reason for the ongoing fascination... the other reason is the mind-boggling diversity of dinosaur types that continue to be discovered...in fossil form, of course.

http://cryptozoica.com/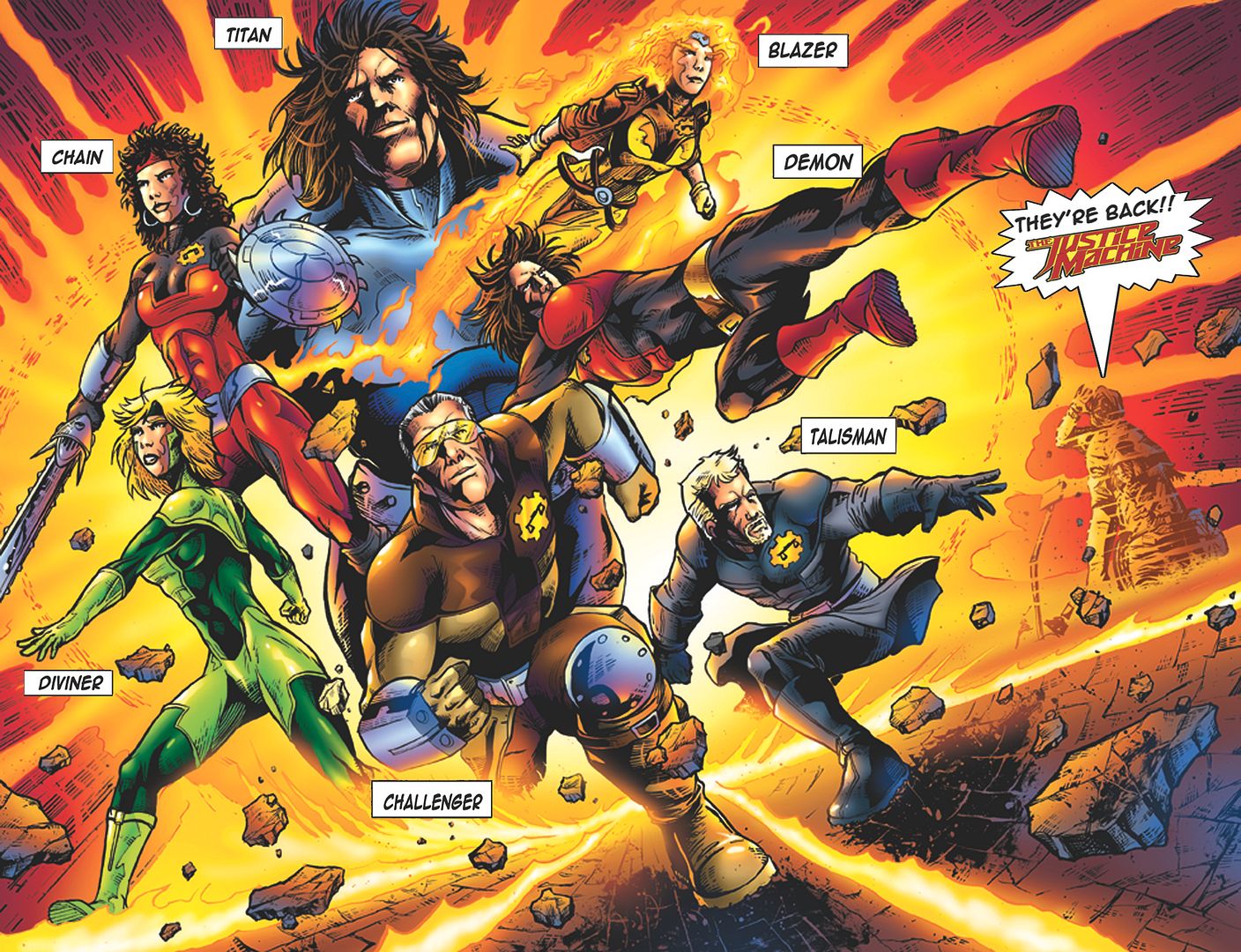 Rich: Why should people pick up The Justice Machine: Object of Power HC?

Mark: The Justice Machine was one of the most popular comic titles of the 1980s...at least in the independent field. If you translated the series sales into today's numbers, it would be not just a hit, but a mega-hit.

When Moonstone Books proposed reviving the Justice Machine, I was slightly tempted to do it as reboot, but I decided the group's backstory was still unique and interesting and had never been examined in detail, during all the years the series ran.

Artist Darryl Banks and I started to do so, in the last two issues of the Justice Machine series, but sadly that was all derailed by the comic field's crash-and-burn of the 1990s.

The basic premise of The Justice Machine: Object of Power is that the team has been missing for 18 years...suddenly, they're back and not only do they have to deal with a world that has changed considerably, the world has to deal with them.

And it's not an easy fit for either the Machine or the world.

Not only does the HC showcase almost 100 pages of beautiful new art by David Enebral and others it also has various special features like the history of the Machine and little seen art by Darryl Banks, Adam Hughes and even Jack Kirby.

http://justicemachine.com/

http://www.moonstonebooks.com/shop/default.aspx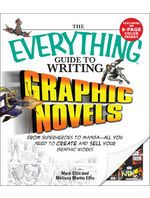 Rich: What are a few things writers should know about creating a graphic novel?

Mark: Mainly, that it's a very specialized form and not every writer can do it. My wife Melissa Martin Ellis and I co-wrote The Everything Guide to Writing Graphic Novels to help the novice understand the form and its rules.

It's tough. I know best-selling, professional novelists who have no idea of how to approach the creation of a graphic novel, so if it's the form a writer wants to pursue, he should have a solid grounding in visual storytelling and pacing from the get-go.

Rich: Why do you like to teach writing workshops, what do you get out of it?

Mark: When I was first starting out, there was next to no information about how to get anything published. Pre-internet, all you had were a handful of "How-To" books...the most useful being Dean Koontz's Writing Popular Fiction. That even showed you how to format a manuscript page.

Since the publishing industry has changed so much in just the last three years, the way to do things are in constant flux...not to mention, the self-publishing and ebook revolutions have sent the whole industry spinning.

A lot of people still operate on assumptions instead of facts. So, with the Newport Round Table Writer's workshops, Melissa and I focus on helping members to refine their craft and get their work published. We've been fairly successful at that.

Pink Noise, a book by one of our members, Leo Korogodski, was even nominated for a Hugo award last year.

At this point, the Newport Round Table is the longest-running writer's group in the state of Rhode Island.

http://www.newportroundtable.com

Rich: What can we look forward to seeing out from you next?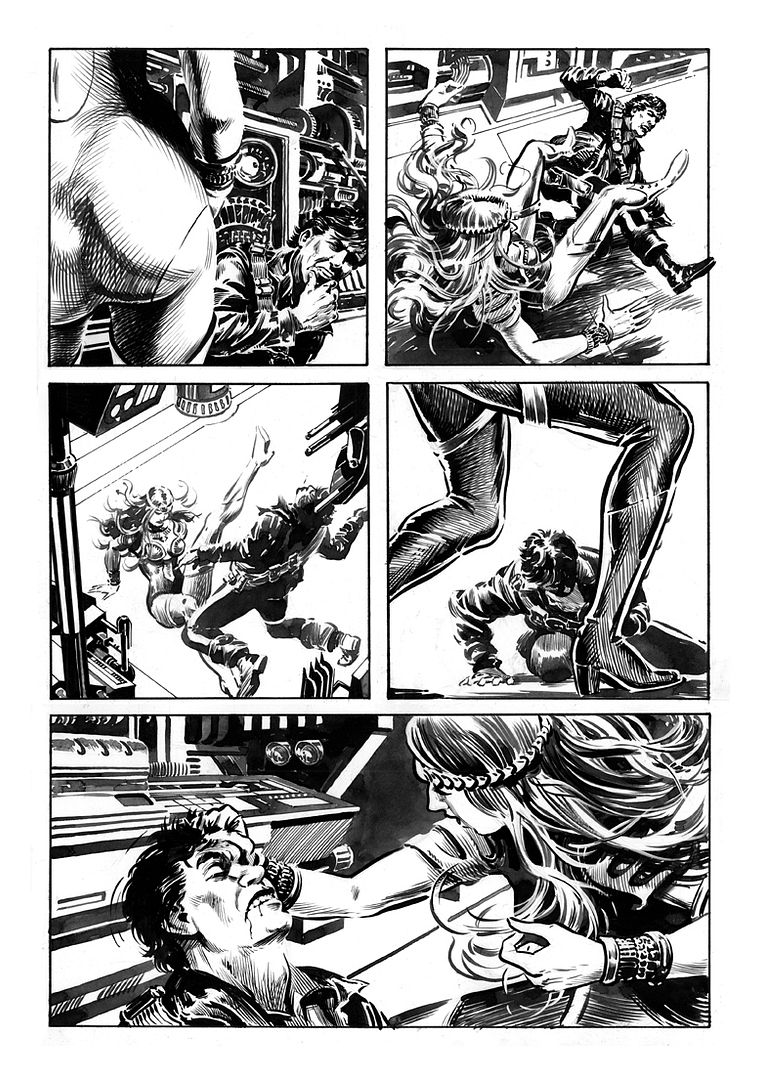 Mark: Jeez, it's almost easier to ask "what not"!

Currently, I'm contracted by Sequential Pulp, the graphic novel imprint of Dark Horse Books to create several graphic novels. At this point in time, I'm working with the legendary Pablo Marcos on a beautiful and two-fisted adaptation of King Solomon's Mines, Ted (Jazz Age Chronicles/Annie) Slampyak on Seven Footprints to Satan, and David Enebral on adapting Richard Prather's enormously popular PI hero, Shell Scott, with Kill The Clown.

There's also an adaptation of Guy Endore's seminal werewolf novel, The Werewolf of Paris which I'm working on with Steven E. Gordon.

I have several other Sequential Pulp projects pending and in one stage of production or another, including a revival/continuation of my signature character, Death Hawk, reuniting with my Cryptozoica partner, Jeff Slemons.

The editor, Michael Hudson, is a visionary and knows exactly in which direction the "graphic narrative" form needs to go in order to reach the broadest possible audience and survive.

It's a good experience...it's always great to work with people who know what they're doing and Michael definitely knows. It's my feeling that Sequential Pulp represents the wave of the future as far as comics publishing is concerned.

http://www.sequentialpulpcomics.com/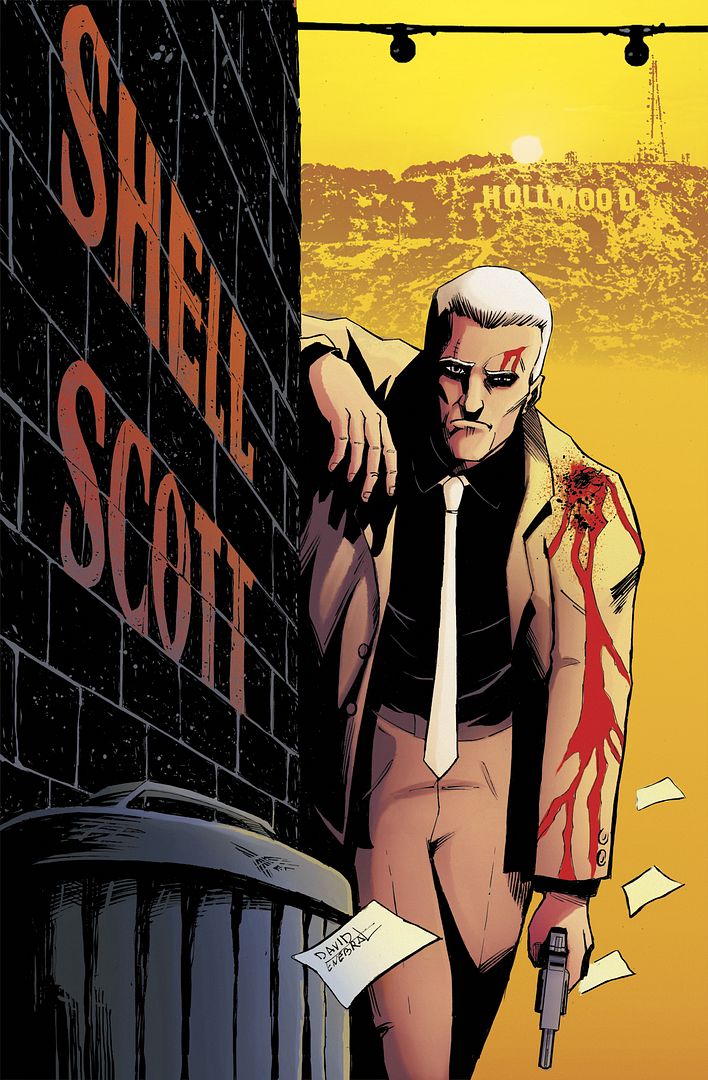 Rich: How do you enjoy spending any free time you happen to get?

Mark: Walks in the woods, on the beach with Melissa my beautiful wife of 32 years. Watching Encore's Western Channel for an evening. Gotta catch up on a whole bunch of years of Gunsmoke.

Rich: Would you like to have super powers and which ones if so or why not?

Mark: I guess when it all gets down to it, I 'd choose the powers of flight and super-strength. Those seem the most useful.

Rich: How can someone contact you?

Mark: Jaxler2@yahoo.com







Rich: How do you feel about all the people who support your career?

Mark: Obviously I'm very grateful to my readers and fans who follow my work. It's nice to be remembered.



MarkEllisInk.com
Site of best-selling author Mark (James Axler) Ellis



Richard Vasseur