Silhouet98
Jazma President

USA
2208 Posts
Posted - 04/17/2012 : 10:44:38 AM
---
Interview with Jodie Parks, Founder/Owner of Paranormal Hot Squad
Interviewed by Paul Dale Roberts, HPI General Manager
www.hpiparanormal.net

Jodie Parks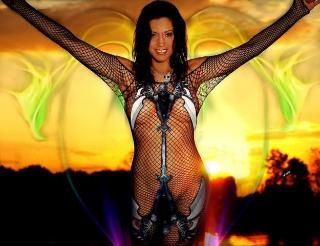 Paul's Comments:
When I first saw the Paranormal Hot Squad…my mouth dropped and I said 'wow!' I wondered if these girls are serious with their paranormal investigating? The only way I can figure out if these beautiful women who have been involved with modeling, TV and even a movie actually embrace the paranormal investigating field, is to actually interview them. So here goes…..

Question: Can you identify the members of your group and their role with Paranormal Hot Squad?

Answer: I guess I can start off with me. My name is Jodie Parks, I am the founder of the Paranormal Hot Squad. I do everything from setting up locations, supplying all equipment, setting up radio shows, events and a lot of the networking. I've been in the paranormal field for five years now and became a investigator because I have two children that see and hear spirits. I've spend 100s of hours investigating and teaching myself editing and everything it thats to be a real investigator.

Antonia~ Trained under Joshua P. Warren for three years in the field and on his radio show, she brings to us a lot of scientific knowledge as well as being a professional photographer she takes pictures of the ladies and during our investigations.
Carrie~ Has been having personal experiences since she was a small child and has been a follower of the field for many years. Carrie has a lot to learn, since she is new to the group, but we feel she is a perfect fit for our squad. We have to learn more about the roles Carrie will excel in as an investigator.
Amber~ Amber has been experiencing paranormal activity since she was a teenager and has been a follower of the field. Jodie met Amber at Scarefest in September of last year and started a great friendship. While building that friendship Jodie learned that Amber is a very intelligent woman and has a lot to offer to our team. Amber is a nurse so we plan on doing experiments with her to get her scientific point of view on it. You can say we are very strong women inside and out.
Missy Darr - She is our camera girl, producer, editor. She went to school for editing and she is good at what she does. She is creating a documentary about us. She has worked in the paranormal field for 2 years and yes, she is a paranormal investigator.

Paranormal Hot Squad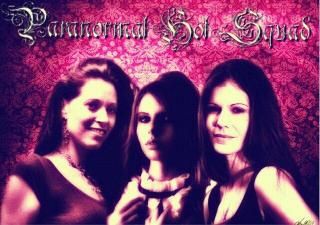 Question: Can you tell me more on what your team members bring to the table?

Answer: The PHS is a one of a kind team that is fresh, funky and flashy. What we bring is intelligence with a twist of excitement. We live our lives to be ourselves and don't get caught up in changing who we are to please the public. What we bring to the table is something nobody else is doing. We can all get dressed up and do professional photo shoots or throw on some jeans and a t-shirt and get dirty while investigating.

Question: Can you tell us about some of your best investigations?

Answer: Sallies House was my favorite investigation with Johnny Houser. We watched a phone fly across the room and I watched him get attacked which ended him up with scratches all over his body and his leg hairs being burnt. I personal do not have closure with that location. My second favorite location was Linda Vista Hospital. The personal experiences were off-the-charts from being touched to hearing with our own ears spirits talking to us. We gathered so much evidence at this location to back up the claims.

Question: What kind of equipment do you use?

Answer: Our cameras are HD with nightshot, IR lights, digital cameras, 5 different digital recorders, 4 different EMF readers, two EM pumps, Frank Box, dowsing rods, and a little fire pit to burn herbs to bring out the spirits. All of these toys are cool and all, but I'm kind of an old school investigator. All I really need is a camera, digital recorder and my gut. The gut is the biggest tool I use. I know when to back off or go forward with caution. I push it to the limit when I feel nothing is there and provoke it which I get a lot of heat for, but that is when I get the best evidence. Spirits were alive at one time so they still understand emotions.

Amber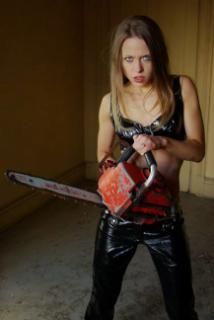 Question: I have to thank one of your Facebook friends, Chantal Apodaca, who is a psychic and my assistant manager for my team. She pointed your team out to me and told me that I should conduct an interview with you. Thank you Chantal! I agree with Chantal that your team has great potential to the field. I know you take paranormal investigating very seriously, but how do you lighten up the mood to make it something that is just not work, but something that can also be fun?

Answer: Investigating should be fun to a point. I'm a funny and crazy person by nature so I bring that with me where ever I go. I just so happen to be a paranormal investigator as well as a professional burper, model and TV public figure. We lighten up the mood by pushing back. When you put a group of women together we can't help but to have fun. We get into things at locations and mess with each other on the down time but we can flip the switch and go all serious to do what we came for...

Question: You and your team mates are quite beautiful. Do you have a lot of men fans?

Answer: Most of our fans are men and all the women fans we love so much. It means a lot to us to have their support because we believe in women and power. We would be so much stronger if we stood together. I feel that women are incredible investigators and would love to share our passions with them by our sides.

Question: What kind of media coverage have you received for Paranormal Hot Squad?

Answer: I was on the Howard Stern Show, then we were on Paranormal Challenge, and at Scarefest. We have done a lot of radio and not much TV, because all the networks or production companies want to do is change us.

Question: Do you only investigate hauntings? Or do you also investigate UFO sightings, monster sightings, etc?

Answer: We do mostly hauntings but would be open to investigating everything in the unknown field because we love to experience new and exciting things.

Question: If the client requests a cleansing, do you also provide this?

Answer: Yes, I do. I've learned that I'm very good at going into locations and getting what I need to move forward with a cleansing. After I leave the people have never had any problems. I enjoy helping families the most because it is the reason I got into the field. I personally have two children that have been seeing ghosts since they were the age of three. To watch my own child suffer from the stress, this gets my oldest son and me out there for children and parents in need. I believe in giving back to others the knowledge and strength it takes to fight back and get your home back. I also have spoken at schools about the field and find great joy in that.

Amber



Question: How can someone contact you? Do you have a website?

Answer: hotsquad1313@yahoo.com The website is down right now to get rebuilt and when we will prelaunch it, we will have the first movie for sale on it.

Question: Thank you for this fabulous interview! Do you have any words of wisdom for your readers?

Don't read a book by it's cover.....

BELOW ARE HPI UPDATES, NEWS AND GOSSIP!

GINA DE LA ROSA SAYS:
Yesterday a psychic got in contact with me about my house and my grandmother.....the things he mentioned and described was 100% true. RIP grandma Josie, my guardian angel! Im happy to know your watching over me and my babies!!!
Credit goes to HPI Psychic Jon Rubsam. Many of the clients have told me this guy is top notch, glad to have him on the team!!

Here is Jon's original message to Gina:

Jon Michael:
Hi Gina, I was part of the group that was going to attend the investigation at your house. This would have happened last Friday before it was canceled, All I was told was about towels and locks, I had a question, do you know anything about the previous owners? I ask this because I have been seeing an elderly woman by the name of Josephine, she may have passed away 5 or 6 years ago, in her late 80's early 90's but she seemed to be attached to your home and I believe she may be what is behind some of the things that is happening in your home, kind of like a caretaker role but nothing negative. But maybe you can check into that, so it may ease your mind.

Gina responds:
Yes, everything u wrote is accurate, 100% about my grandmother.
..
Jon Michael responds:
I hope this helps, she is not there to scare you or the family, she is watching over her home and doing what she would of done while there, she will keep an eye out for your safety, and your babies. I hope this helps.

Gina's Final Response:
Thank u so much.

Gorgeous Jodie Parks!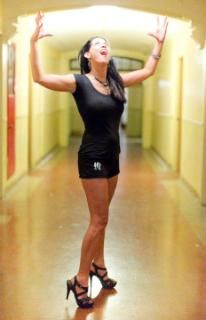 Paul Dale Roberts, HPI Esoteric Detective
aka The Demon Warrior
Shannon McCabe's Haunted and Paranormal Investigations International
www.hpiparanormal.net
http://www.knighttalkradio.blogspot.com/
Managed by Staci Butler, HPI Twitter Account Manager/HPI Senior Lead Investigator
http://alldestiny.com/index.php/paul-dale-roberts/
My Bio Link at Ceri Clark's All Destiny Magazine!
Email: pauld5606@comcast.net
Cellular Paranormal Hotline Investigation or Advice: 916 203 7503