Richv1
Jazma V.P.

Canada
6658 Posts
Posted - 06/26/2012 : 06:55:13 AM
---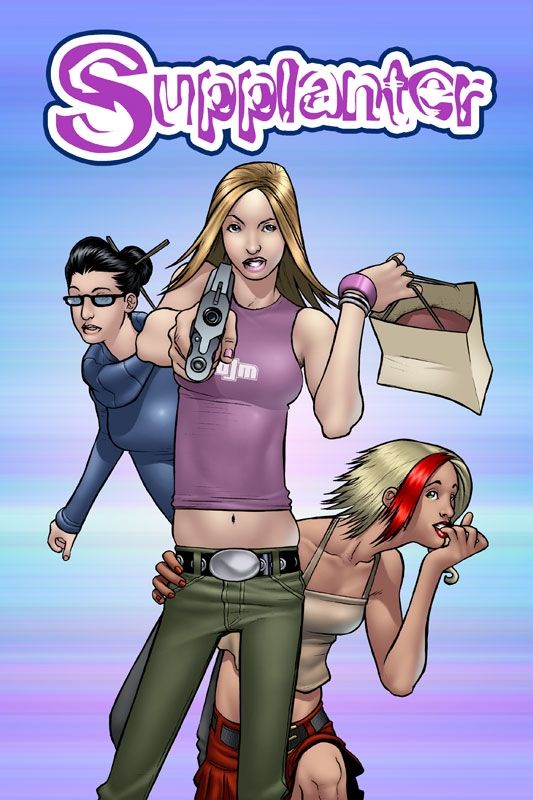 Matthew Weldon
Artist for Supplanter
Published by: Mohawk Media
Interviewed by: Richard Vasseur/Jazma VP
Posted: 26/06/2012

Rich: How did you end up joining the Mohawk Media team?

Matthew: I'm really not sure, I knew about Mohawk Media but I was just happy to have a project to work on at the time. And to collaborate with a working professional writer no less: Mr Chris Bunting.

[Chris adds: "Matt and me got together to pitch this a few years or so back, and although we had several acceptances, it made most sense to take to Mohawk Media. They in turn knew it made most sense to produce via Eco Comics."]

Rich: What is the basic storyline of "Supplanter"?

Matthew: A college age female student gets a chance by absolute rare circumstance to follow up on a long overdue capture of a super hardened war criminal.

Conflicted at first, but resolute and committed she couldn't stand by while a murderer was granted another day of freedom, even if it meant her own demise.

Another also comes to her aid during this event and offers her a chance to pursue other unsolved cases.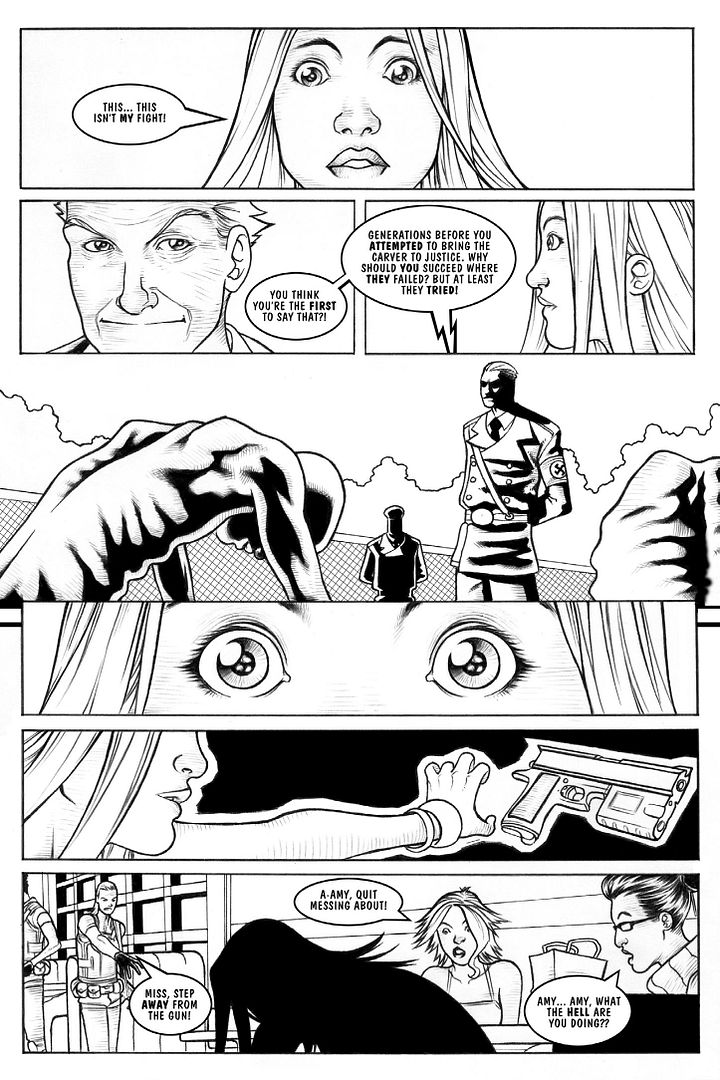 Rich: Who is Amy Underwood, and why should we care about her?

Matthew: I've actually had a long time to think about this since the first issue was done over 5 years ago :) and as I've grown over the years I've forgotten :( just kidding!

I think she's caring and invested and doesn't spend a lot of her life sweating the irrelevant. She focuses on the present and seems to care about all the things that really matter, like shopping and family etc.

So when she meets up with this war criminal, she makes a choice so step up those things that she cares about, maybe for the worse, who knows.

Rich: Why does Amy hunt war criminals?

Matthew: Because she's impulsive and reckless... Probably a bleeding heart for all on the receiving end of tyranny. I think.

Rich: What do Amy's family and friends think of her?

Matthew: Well, I think her mother and sibling really worry about her. Her mother is a super strong woman, mentally and physically, so in an attempt to raise her to be strong I think she's concerned with having enabled Amy to put herself in tough or potentially hazardous situations. That's the only way to get Amy initiated or to grow. If that makes sense.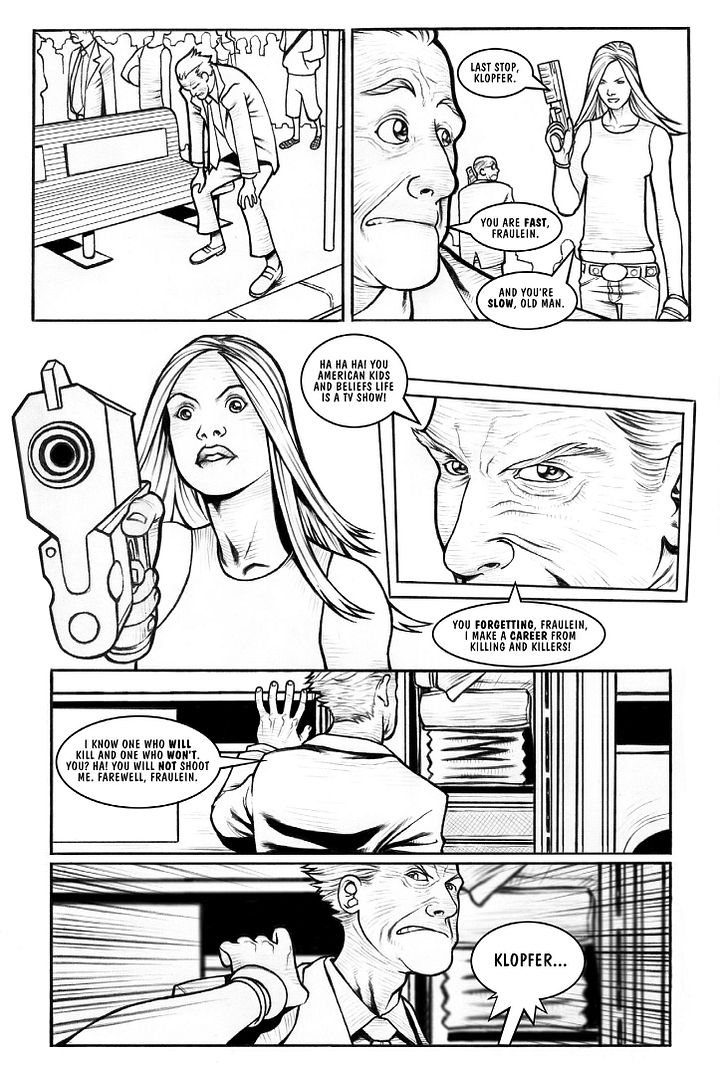 Rich: How do you feel Chris Bunting's writing compliments your art?

Matthew: I think it worked out great since I've always been into weaponry, action and fashion, so I think it really took me to another level and helped me evolve as an artist an set in a positive direction.

Rich: Is there any chance of this comic becoming an animated show or movie?

Matthew: I have no idea, but I wouldn't be opposed to it at all. I think this is a great story with characters and action and a direction that could definitely produce enough content for an ongoing series, or a larger movie plot. It most definitely could.

Rich: How did you come up with the cover pose for "Supplanter"?

Matthew: I'm not sure, I drew up the cover after the issue was completed so I had some time to ponder on it. And as simple as it is I tried to throw an element or two from the interior storyline of the book onto the cover.

But for the first shot, I didn't wanna clog up the cover with a background or anything, so I just had the girls up front and centre.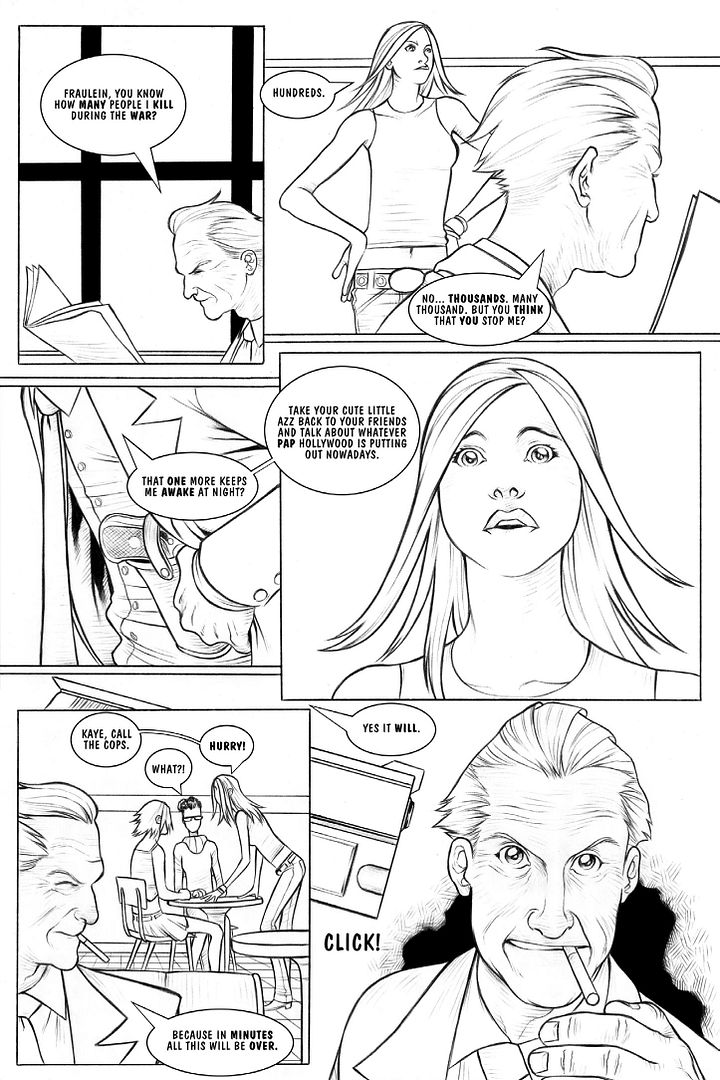 Rich: You worked on "Transmetropolitan: All Around The World" from DC what did you think about working for DC and would you like to again?

Matthew: That was from DC?! I had always seen Transmetropolitan here and there at cons and during my visits to comic shops while I was growing up. And I knew a little about the story line from an a few issues that were loaned to me but I guess I never bothered to check out the published. Huh, interesting!

As far as my experience, they were very complimentary of my stuff and they gave us regular updates about when the deadline was and when it came time to turn in bios and addresses for the complimentary copy they were great.

And as far as working for DC, I don't really see that happening. Mostly because I'm not actively applying to work there or trying to get on in any way. Nothing against them, and they've got plenty of talent so they won't miss me, I'm sure.

Rich: Can you tell us about "Popgun" and "New Brighton Archaelogical Society"?

Matthew: Here's where I'm really focusing my efforts these days. Popgun was a great start and I was able to get three original stories and a few random art pieces published in them.
One of them being New Brighton Archeological Society. Of which, the 2nd graphic novel to the series is set to release this summer, 2012.

And after that I'll be filling in for a six issue run on the Image series, Gladstone's school for world conquerors, which has been really fun. After that, who knows.

Rich: What do you see as your future with the "Supplanter" comic?

Matthew: Well, Supplanter was the one closest to my heart during the maturing process and it taught me a lot about working in comics and what I was capable of and Chris was exceptional in aiding in that.

I like being busy and always working on something so if Supplanter was there after I had completed the two projects I'm currently on, I would be completely in!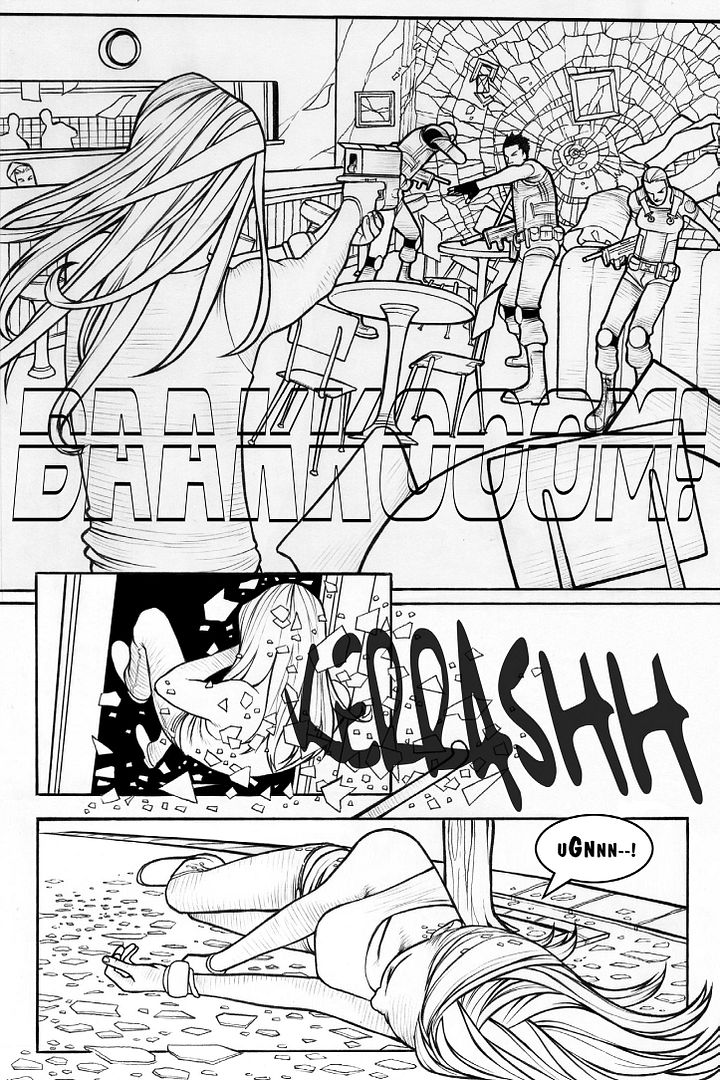 Rich: How can someone contact you?

Matthew: My facebook page "Matthew Weldon" is pretty much open to the public and a lot of my contact info is on there.

[Or Matthew can be contacted via Mohawk Media.]

Rich: Any final words for fans of your work?

Matthew: Thanks to all seven of you who have endured all these turbulent years and been patient with me.

I work as much as my day-job allows – and fear not, more stuff is on the way...

And don't forget to order Supplanter #1 now from the Eco Comics store - http://www.mohawkmedia.co.uk/ecocomics/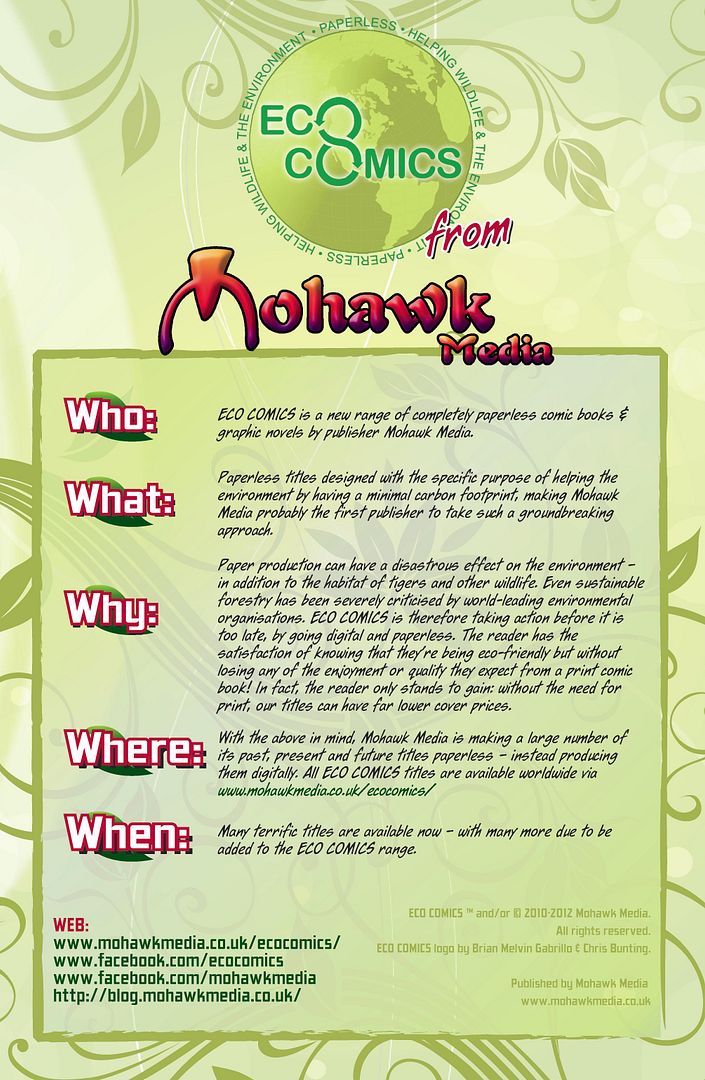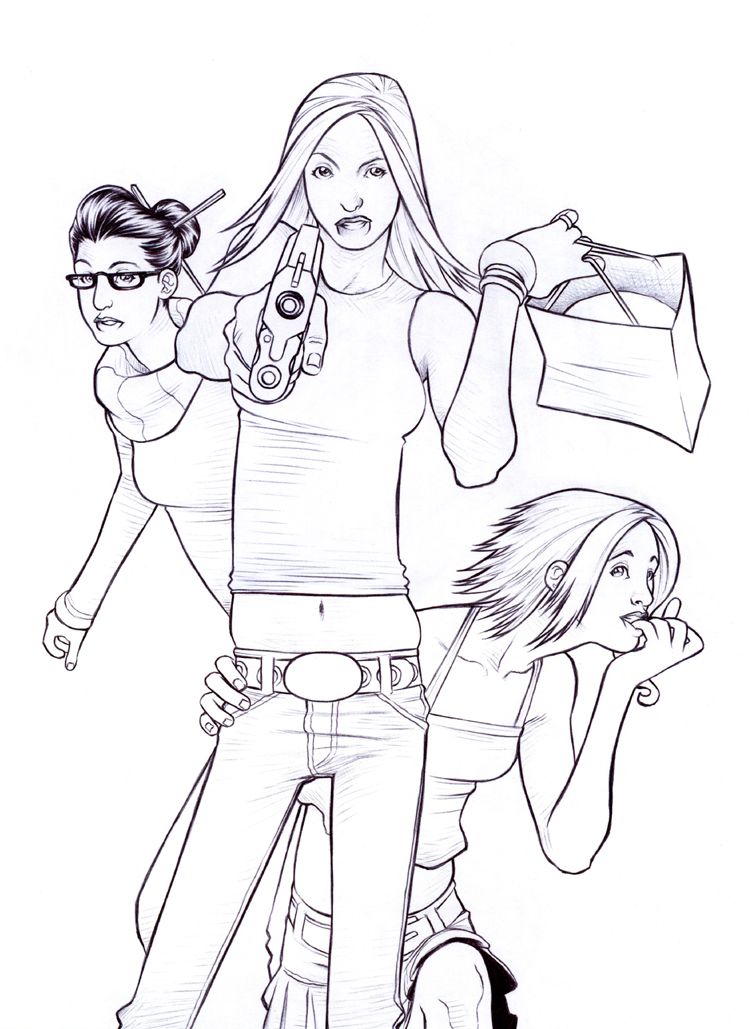 Richard Vasseur