Silhouet98
Jazma President

USA
2208 Posts
Posted - 10/02/2013 : 2:06:39 PM
---
Name: Meraamya – Princess of Arkticopolis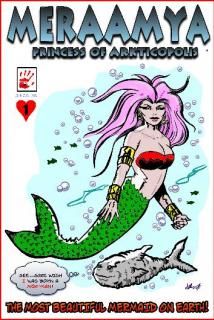 www.jamesrubino.com
Price: $3.00
Published by James Rubino
Overviewed by: Paul Dale Roberts – President – Jazma Online! www.jazmaonline.com
The question arises…'do Mermaids exist?' Are Mermaids really seen only by love sick / home sick sailors with blurred vision? Are mermaids really just manatees? Of course Animal Planet had a special to determine if Mermaids are real, see some of the shows at this link:
http://animal.discovery.com/tv-shows/mermaids
In this comic book, you are taken to Arkticopolis. This underwater city was once the home of star-traveling refugees from the planet Azulyaar. These refugees were known as Mer-People, half humanoid and half sea creature. These Mer-People lived in harmony, in paradise, they were practically immortal, they lived for centuries. That harmony broke when there were undersea tremors. Those tremors lead to volcanic disaster and the only survivor is the lovely Princess Meraamya of Arkticopolis! Meraamya talks James Rubino into dedicating a full comic book to her. With her fishy female persuasion, James falls into her spell. When Meraamya sees a submarine, she automatically thinks it's some kind of strange sea creature, she is astonished by its appearance. In this comic book you will find some gorgeous pencil sketches. Throughout this comic book, Meraamya is the center of attraction as many admirers gawk at her. I get a kick out of two Mer-Men who get into a hell-raising battle for the affection of Meraamya. This reminds me that I once heard a rumor that Prince Namor of the Marvel Universe got into a heated battle with Aquaman of the DC Universe for the affection of Meraamya and Meraamya passed them both up. If you love beautiful artwork, if you love exciting sea-faring fantasy tales, then Meraamya – Princess of Arkticopolis is the comic book for you!!

FANS OF JAMES RUBINO!