Silhouet98
Jazma President

USA
2214 Posts
Posted - 05/05/2015 : 2:45:52 PM
---
Title: Archives of the Alien: The Noetic 90s Vol 3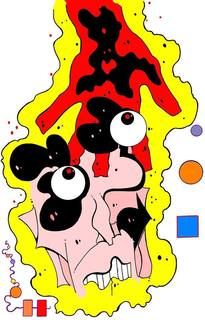 Publisher: www.jamesrubino.com
Email: jaruarts@juno.com
Writer and Artist: James Rubino
Price: $3.00
Overviewed by: Paul Dale Roberts - President www.jazmaonline.com
Comments: James does it again with his complimentary to Jack Kirby artwork. Everyone of James' comic books are a masterpiece to look at. I love the way he draws his characters. Exceptional details are placed in each character he creates. With Moon-base Ekklesia, we have mastered science fiction with Lt. Shepherd being in charge. An investigation ensues - strangled corpses are found on the outskirts of the base. We get some intriguing action in this story too. James displays in the next section of this comic book, his unpublished works. Thank you James, everything should be revealed, especially great artwork like this! You will like Cykron - Intergalactic Nerd, artwork for a cover idea - from an unpublished comic series called by the same name mentioned above. From the unpublished comic series Skrack - we have the Symbiontic Kinetic Response Android Creation: K; there is a lot more unpublished artwork. A real enjoyment of James Rubino eye-candy and it's always fun to see the characters that inhabit the Rubino Universe. You get some mini-stories and artwork like Joseph Merrick aka The Elephant Man and Life in Antarctica...and of course a lot more! Some small fillers like Harry the Talking Moth; Mr. Niceguy and a whole lot more artwork! This comic book is a fun, fun read, hard to put down!