Richv1
Jazma V.P.

Canada
6700 Posts
Posted - 08/02/2015 : 02:40:16 AM
---

Title: Champions # 63
Publisher: Heroic Publishing
Writers: various
Artists: various
Price: $ 4.99 US, $ 5.75 Can
Rating: 3 out of 5 stars
Website: www.heroicpub.com
Comments: "The Battle for Jimmy Dooley!" Story by Dennis Mallonee, artwork by Terry Pallot and Henry Martinez, letters and colors by Dick O'Malley.
Sparkplug and Icicle face the villainous Earthmaster. Icicle is drawn in some sexual poses as they battle. The fight is strange as we keep getting references to how these two heroes are the new members of the Champions and not real members. After the battle we get a look at the personal lives of Icicle and Sparkplug. Icicle can do more than just make ice.
Sparkplug and the relationship with Icicle and a reporter Jimmy is hard to follow. It could though cause trouble between the heroes. A big deal is made by Sparkplug that she is a virgin and this Jimmy is the one she loses that with.
"In Battle with the Blue Crew!" by Dennis Mallonee and Francesco Gerbino, colors and letters by Dick O'Malley, inspiration by Barry Wilson. G-Girl's little brother does know what he is doing as he comes on to her girlfriend. The art could be better, Irin's eyes are drawn off, her butt is way to big in one drawing. Some of the drawings show the two girls in a sexy light. Irin's butt is illustrated sensually in the other drawings.
While G-Girl is at the bank it is being robbed. This of course is a great excuse to give us a upskirt thing shot. It is nicely drawn with a camel toe to of course.
G-Girl does show off her agility and her paying attention skills here. Having invisible men around is hard to notice. She does and goes into instant action.
This comic does have a sexal side to it and it still stays true to having super-heroes as well as showing off their personal sides in their down time.



Title: Champions # 64
Publisher: Heroic Publishing
Writer: Dennis Mallonee
Artists: Luis Rivera, Chris Marinan, Henry Martinez
Colors: Escomic!, Nataliya Torretta (Grafimated Studios)
Letters: Dick O'Malley
Price: $ 4.99 US, $ 5.75 Can
Rating: 4 out of 5 stars
Website: www.heroicpublishing.com
Comments: "On the Trail of the Abominable Ogre" by Dennis Mallonee and Luis Rivera, colors by Escomic! and letters by Dick O'Malley.
G-Girl is a different kind of hero. He seems unsure of his sexuality. She/he is a unique character. Her gorgeously drawn body will have you appreciating it. Her face is illustrated more manly but still attractive.
G-Girl and Icestar face the Ogre. Ogre is a big brute, like a hobgoblin on steroids. The fight does deliver some great action poses.
The main story here is not the fighting but the relationship building between Icestar and G-Girl. Finding out more about G-Girl makes you realize that she/he is not your average every day hero. She is a hero though and a Champion.
"The Origin of the Nemesis Girl" by Dennis Mallonee and Chris Marrinan, colors by Nataliya Torretta (Grafimated Studios) and letters by Dick O'Malley.
This is a short four page introduction to Nemesis Girl and it delivers excitement. You will be ready to see more of her.
"Adventures with My Little Brother" by Dennis Mallonee and Henry Martinez, colors and letters by Dick O'Malley.
G-Girl has one horny little brother and also one sexy girl friend for him to flirt with. He does get some hands on experience at flirting with her.
It is nice the way the stories feature certain members of the Champions rather than the whole team. This way you get to know them better. G-Girl is a super-hero that certainly deserves your attention as she makes her/his way in life.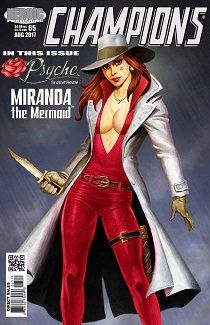 Title: Champions # 65
Publisher: Heroic Publishing
Writer: Terrance Griep, Steve Perrin & Wilson Hill
Pencils: David Gross, Chris Marrinan
Inks: Terry Pallot, Chris Marrinan
Letters: Jean Simek, Comicraft's Albert Deschesne
Colors: Mike Estlick, John Heebink
Price: $ 4.99 US, $ 5.75 Can
Rating: 3 out of 5 stars
Website: www.heroicpublishing.com
Comments: "The Ghost of Chance" Psyche the Occult Detective aka Miss Rose Rich is investigating a haunting. The grammar needed to be checked in this story. Rose and John her assistant work to find out who or what is behind the haunting. A poor sick woman is helped by them. These two Rose and John have a fun working relationship. The art has Rose as a investigator of the occult not looking as a super-hero. Rose does act like a professional.
"Mermaid of the Potomac" The second story is A Psyche Adventure at the White House. Here Psyche is called Mrs. Rose Hunter? The previous story called her Miss Rose Rich? The mermaid is illustrated so cute and golden colored. Rose does face magic here but rather than fight it she encourages it. This is a cutely told story with nice art.
Psyche is a woman and part of the Champions though she does not come across as a super-hero but more of an investigator.

Richard Vasseur