Silhouet98
Jazma President

USA
2214 Posts
Posted - 04/28/2016 : 09:10:19 AM
---
Name: I Wanna Iguana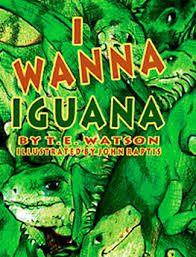 By T.E. Watson - Illustrated by John Raptis
Email for T.E. Watson: tew@tewatsononline.com
Price: $16.95
Publisher: Paw Prints Press
Overviewed: Paul Dale Roberts, President www.jazmaonline.com
Comments: The illustrations are top notch, very detailed and fun to look at. The artist also utilizes bright fun colors that are pleasing to the eye. The story starts off with a little boy desiring an Iguana. The little boy thinks of owning an Iguana, is like owning your own personal dinosaur. This book is a fun read for any child. As the story continues, the little boy gives many reasons why he wants an Iguana. The little boy fantasizes of owning a Iguana and explains that they eat fruits and vegetables and it shouldn't cost too much, they can read comics together and it shows the little boy in his superhero costume and his pet Iguana set up to fight crime. This is truly a fun read for a child. I'm an adult and I am getting a kick out of this story and all of the beautiful illustrations. As the story goes, the boy dreams of his Iguana being the first Iguana on Mars and becoming a hero and getting a movie deal. At the end of this story, you get a bonus on the Care and Feeding of Iguanas. If you like Dr. Seuss The Cat in the Hat and Green Eggs and Ham, then you will love I Wanna Iguana. T.E. Watson has the story telling ability of Dr. Seuss!