Richv1
Jazma V.P.

Canada
6700 Posts
Posted - 11/16/2016 : 2:34:46 PM
---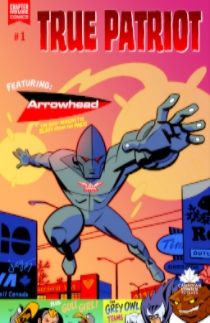 Title: True Patriot Presents # 1
Publisher: Chapter House Comics
Writer: J. Torres, Fred Kennedy
Artists: J. Torres, J. Bone, Rob Armstrong
Colours: Sigmund Torre
Cover Artist: Jay Stephens
Price: $ 3.99 US
Rating: 4 out of 5 stars
Website: www.chapterhouse.ca
Comments: Here we see the debut of the Arrow. A boy Cody finds a suit that uses Geo-Magnetism. The Arrow decides to use his powers to stop some local bullies. The illustrations of him in action using his powers look amazing.
Del Dixon and Cody Meekis do give the suit a workout. It also looks as if it will be getting more in the future. In North Bay, Ontario, Canada evil is ready to come for them.
Niagara Falls, Ontario and here you will not believe what is behind the Falls. Lots of gorgeous colors in this story. The Grey Owl meets Tundra and he gives him a inspiring and truthful talk about what is most important about a person. Tundra is part of the team the Family Dynamic which are a take on the Fantastic Four. They are different enough to stand on their own. The art here is more cartoonish.
The story of Gull Girl here has a beautiful illustration of her fighting a fisherman type character. The gulls in place of hands is something totally different.
Canada has its own super-heroes and they are pretty cool.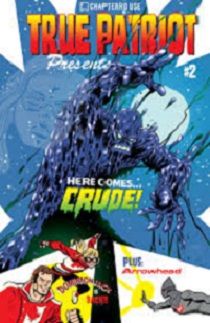 Title: True Patriot Presents # 2
Publisher: Chapter House Comics
Writer: Fred Kennedy, J. Torres, Jay Stephens
Artists: Dave Bishop, Dominic Bercier, Jay Stephens
Colours: Sigmund Torre
Price: $ 3.99 US
Rating: 2 out of 5 stars
Website: www.chapterhouse.ca
Comments: "Tale from the Pond" The origin of Crude is given here. Jessie Schurr makes a mistake and her life is changed forever. The art is magnificently done on Crude. She is illustrated to perfection. She looks like an oily mass of liquid. This is a great starting point for Crude's adventures.
"Mob Mentality Part 1" Dominion Jack faces an old friend now a super villain called Mob. This story just gets started and than its continued. We do see some action it is just not presented that well. The art style is messy. The faces have to many think lines on them, so does the clothing. A lot of the backgrounds are sparse.
"Phase 1.5: Totally Shot" Colonel Steel hired The Fourth to kill Arrowhead. Things turn out differently. This story does not fully explain what is going on. Arrowhead is illustrated nicely to show off his power.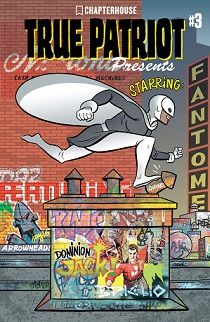 Title: True Patriot Presents # 3
Publisher: Chapter House Comics
Writer: Jay Stephens, Jack Briglio, Meaghan Carter
Artists: Jay Stephens, Dominic Bercier, Meaghan Carter
Cover Art by: Jay Stephens
Price: $ 3.99 US
Rating: 2 out of 5 stars
Website: www.chapterhouse.ca
Comments: "Phase 2: Dawn of the Biodrones" The story starts off jumping from one time and city to another. Your interest will be peaked to know how these events are connected. Arrowhead must contend with sleeper agents here. Not much action and not much of a story. The characters though are good they just need to be used better.
"Mob Mentality Part 2" Dominion Jack faces off against Mob. They talk more than they fight. Mob is shown using his powers in a unique way, Jack attacks with just one hit. We could really use a little background on these characters. The art could have been better used to show off the characters.
"A Night at the Ecomuseum Part 1" Le Fantome and Samurai Diable both want to solve the missing animals crime. Both these heroes are illustrated in a non dynamic way. They need to be drawn more exciting. Le Fantome is a super-hero of the night and a mysterious one but still knowing more about her would help the reader to care more about her.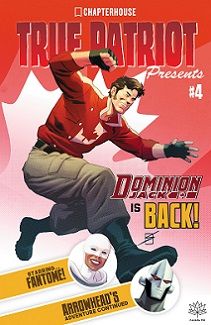 Title: True Patriot Presents # 4
Publisher: Chapter House Comics
Writer: Jay Stephens, Jack Briglio, Meaghan Carter
Artists: Jay Stephens, Dominic Bercier, Meaghan Carter
Cover Art by: Ron Salas
Price: $ 3.99 US
Rating: 3 out of 5 stars
Website: www.chapterhouse.ca
Comments: "Phase 3: Solid Ghost" A Electroencephalography Scientist robot he can control with just his mind. This is a look at the past and how Arrowhead was back then. In the present Cody is the new Arrowhead. Who or what is Ookpik? Arrowhead looks amazing in his suit. The other robot is illustrated in a retro style that is beautifully done.
"Mob Mentality Part 3" When Jack and Andy aka Dominion Jack and Mob got their powers it changed both their lives forever.
Mob has his own super powered team and they are meant to break a person's spirit. Jack has faith in his friend that he can bring him back to the side of good. The super powered team could have been illustrated better and with more imagination going into creating their costumes and looks.
"A night at the Ecomuseum Part 2" Le Fantome and Samurai Diable meet the villain Monsieur Royale. Monsieur Royle can control animals. The animals are illustrated great as fearsome beasts, the people including the heroes are illustrated to vague. Another hero shows up Love Tap. She is cute and illustrated stoutly. The story concludes here with the team-up.

Richard Vasseur