Richv1
Jazma V.P.

Canada
6437 Posts
Posted - 03/10/2017 : 11:29:20 PM
---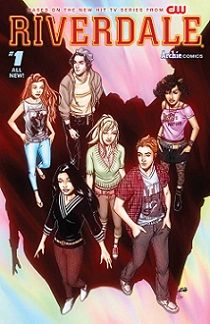 Title: Riverdale # 1
Publisher: Archie Comics
Stories by: Roberto Aguirre-Sacasa
Writers: Will Ewing, Michael Grassi
Art: Joe Eisma
Colors: Andre Szymanowicz
Letters: John Workman
Cover: Alitha Martinez
Variant Covers: Elliott Fernandez, Francesco Francavilla, Peter Krause, Djibril Morissette-Phan, Ron Salas
Price: $ 3.99 US
Rating: 3 out of 5 stars
Website: www.archiecomics.com
Comments: Each story in this series is named after a movie which is a great touch. Each of these stories does take place in the new universe created for the new TV series Riverdale.
"Bloodsport" Archie is on the football team and it is not all roses. Initiation to the football team is pure hell here. We do see Chuck in a different light than from other Archie series. Archie shows his will power and toughness. This version of Riverdale is a dark and unfriendly place.
"Bring It On" Cheryl Blossom is Captain of the Cheerleaders. She has a version of Hell Week for Betty. Now we are treated to Betty in an almost not there cheerleader uniform. The illustration features a hot looking Betty.
There is a definite rivalry between Cheryl and Betty. One that will only intensify.
This is a dark and disturbing look at the Archie Universe and the characters in it from a mirror darkly.



Title: Riverdale # 2
Publisher: Archie Comics
Stories by: Roberto Aguirre-Sacasa
Writers: Greg Murray, Daniel King
Artists: Joe Eisma, Thomas Pitilli
Colors: Andre Szymanowicz
Letters: John Workman
Cover: Francesco Francavilla
Variant Covers: Michael Dooney, Matthew Southworth
Price: $ 3.99 US
Rating: 3 out of 5 stars
Website: www.archiecomics.com
Comments: There was a huge food fight and the principal has the main suspects all in detention.
Archie has decided to face his greatest fear. It is a good lesson to see someone moving forward pushing themselves to their limits.
The accused students talk among themselves. They want to get to the bottom of this.
Just wait to you see what Betty is reading it will blow your mind. You will not in a million years question it.
This issue we see true friendship shine. The close knit group of friends really do shine here as friends.
Cheryl is shown as a quite bomb just waiting to go off. She is going to be trouble.
This book is done as a drama series, so it is nothing at all like the older Archie comics. It lacks the over the top humor but replaces it with teen drama.

Richard Vasseur