Richv1
Jazma V.P.

Canada
6437 Posts
Posted - 04/15/2017 : 11:50:03 AM
---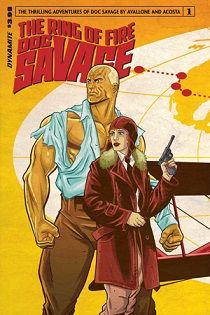 Title: Doc Savage: The Ring of Fire # 1
Publisher: Dynamite Comics
Written by: David Avallone
Art by: Dave Acosta
Color by: Morgan Hickman
Letters by: Taylor Esposito
Cover A by: Brent Schoonover
Cover B by: Marques, J.Bone and Daniela Miwa
Price: $ 3.99 US
Rating: 3 out of 5 stars
Website: www.dynamite.com
Comments: The dream sequence makes little sense but it might be explained later on. The erupting volcano now this is a powerful illustration showing the power of the volcano. Pat Savage's dream is explained right away Amelia Earhart is missing and this dream ties into it.
Doc Savage is called on by the President to investigate a mini volcano that may have attacked a military base and ship.
Doc and his team Monk, Ham, Johnny, Renny and Tom. Are all off on this mission. Of course Pat ends up following. She is Doc Savage's cousin after all.
The story and action are all low key. Doc Savage is a man of adventure and action and more of that was needed here.
For a first issue to introduce the characters and get the story started it is done good.



Title: Doc Savage: The Ring of Fire # 2
Publisher: Dynamite Comics
Written by: David Avallone
Art by: Dave Acosta
Color by: Morgan Hickman
Letters by: Taylor Esposito
Cover A by: Brent Schoonover
Price: $ 3.99 US
Rating: 3 out of 5 stars
Website: www.dynamite.com
Comments: Diving out of a plane, gun blazing, bodies falling as Doc Savage lands hard on a Japanese Submarine. Fists flying as he invades the Submarine. Now this is Doc Savage the man of action.
Renny and Tom are diving a wonderfully designed submarine. It is nicely colored as well.
So all the characters show up at Phoenix Island.
Doc Savage finds out they face his greatest foe. Who could that be but John Sunlight. Who is John Sunlight? This should be explained or at least a hint given. He does not seem all that evil.
The action is hot and heavy to start but dies down fast.
The plot has yet to be revealed why are the villains doing what they are doing?
Doc Savage is a living legend and it is exciting to see him in action.

Richard Vasseur