Richv1
Jazma V.P.

Canada
6737 Posts
Posted - 06/09/2017 : 1:00:26 PM
---

Title: Marvel Comics Digest # 1 The Amazing Spider-Man
Publisher: Archie Comics
Writers: Stan Lee, Len Wein and others
Artists: Steve Ditko, Ross Andru and others
Cover Artists: Mike Wieringo, Karl Kesel
Price: $ 6.99 US
Rating: 4 out of 5 stars
Website: www.archiecomics.com , www.marvel.com
Comments: The Amazing Spider-Man is featured in this issue with reprints from the original series. All the familiar characters are in these pages; Peter Parker, Led Leeds, Betty Brant, J. Jonah Jameson, Flash Thompson, Harry Osborn, Liz Allen, Aunt May, Mary-Jane Watson.
Spider-Man does get into some hard hitting action. Poor Spider-Man he is a hero as Spider-Man but he has such bad luck as Peter Parker.
The art is old school and so beautiful to look at. The action poses and Spider-Man in the fight scenes show you the kind of excitement you live for.
We get to see such villains as Doc Ock, Hammerhead and others. You will thrill to reading these adventures of everyone's favorite wall-crawler.
The Vulture is illustrated amazingly. For an old man he can fight and fly. These two put on a show that you are sure to want to watch.
The one thing in these stories that makes Spider-Man stand out is that he is also Peter Parker an ordinary guy with an ordinary life.
The Sinister Six strike; Mysterio, Doc Ock, Kraven, Sandman, Electro and Vulture team-up. This battle is a spectacular display of fighting with each villain using their powers and abilities to full effect. Spider-Man is hard pressed against these vile villains.
There are some emotional moments to. Peter remembering his Uncle Ben fondly.
Spider-Man and Deadpool team-up and yes its silly a lot. Taskmaster makes for a nice villain.
If you want Spider-Man as how he should be presented your in luck True Believer. Swing into this exciting adventure and you will never be the same again.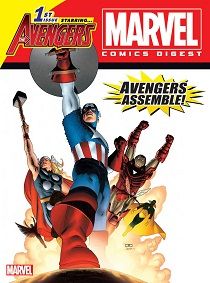 Title: Marvel Comics Digest # 2 Avengers
Publisher: Archie Comics
Written by: Stan Lee, Roger Stern, Jeff Parker, Bob Williams
Drawn by: Jack Kirby, Bob Budiansky, Al Milgrom, Juan Santacruz, Tim Levins
Inking: Dick Ayers, Paul Reinman, Joe Sinnott, Paul Fernandez, Karl Kesel
Lettering: S. Rosen, Art Simek, Diana Albers, Janice Chang, Joe Rosen, Dave Sharpe, VC's Clayton Cowles
Colorist: Christie Scheele, Carl Gafford, Impacto Studios' Adriano Lucas, Sotocolor
Cover Artist: John Cassaday
Price: $ 6.99 US
Rating: 4 out of 5 stars
Website: www.archiecomics.com , www.marvel.com
Comments: This issue features the Avengers. This issue features first how the Avengers were first formed.
Loki sets up the Hulk to lure Thor out. Ant-Man and the Wasp and Iron Man are also drawn in. Thor is lured away while the rest must face the Hulk.
The art is amazing yes it is from years ago, 1963. Jack Kirby and Dick Ayers though know how to deliver pure excitement and then some. We also get to see Iron Man in his gold colored suit of armor and Ant-Man and Wasp in their first costumes. The Hulk is more bulky here as well.
It is awesome to read and see the Avengers as they form into a team.
"the Space Phantom" Now this creature is a menace and his imitating power makes him even more so. Giant-Man makes his appearance here and the Wasp has insect super senses.
There is a great battle with the Space Phantom and Iron Man, Giant-Man, Wasp and the Hulk. The action and excitement is thrilling and super fast paced. When Thor joins in it is only a matter of time till the battle is won.
"Havoc on the Homefront!" The Wizard has escaped and the Avengers respond. Captain America, She-Hulk and the Scarlet Witch get to him. His house is a death trap that puts the Avengers through their paces. It all comes down to who is the smartest fighter. We all know who that is.
"I Want to be an Avenger!" Spider-Man wants to join the Avengers and you should see his grand entrance. The art is simply stunning. Spider-Man joins Captain America, She-Hulk and Starfox on an adventure. They face a small army of Lava Men.
"Meltdowns and Mayhem!" The Avengers and Spider-Man face off against the combined might of Blackout, Moon Stone, Electro and the Rhino. Super-Heroes vs Super Villains in all out action with gorgeous art.
"A Not-So-Beautiful Mind" This adventure is from Marvel Adventures so Giant-Girl, Storm and Spider-Man are part of the Avengers team along with Hulk, Wolverine, Iron Man and Captain America. M.O.D.O.C. and A.I.M.
"Even A Hawkeye Can Cry!" Man-Bull, Melter, Whirlwind and Egghead take on Spider-Man, Iron Man, Giant-Girl, Wasp, Storm, Wolverine, Captain America and Hawkeye shows up to help.
"Absolute Zero" In this cold weather adventure Captain America and Hawkeye both are drawn to bulky, the Black Widow though is drawn nice and slim and fit.
"The Avengers Protocol" adapted by Joe Caramagna. The line-up is Iron Man, Captain America, Thor, Black Widow, Hawkeye, Hulk and Falcon. Red Skull and M.O.D.O.K. make formidable opponents.
These stories of the Avengers are how they are meant to be. They are one hard hitting team of the world's greatest super-heroes.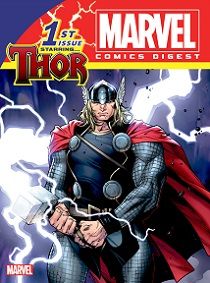 Title: Marvel Comics Digest # 3 Thor
Publisher: Archie Comics
Written by: Stan Lee, Len Wein, Roger Stern, Todd Dezago, Paul Tobin, Joe Caramagna, Simonson
Pencils by: Jack Kirby, Sal Buscema, Ron Lim, Ronan Cliquet, Kevin Sharpe, Van Meter
Inking: Vince Colletta, Klaus Janson, Scott Koblish, Amilton Santos, Terry Pallot, Bachs & Vecchio
Colorists: Glynis Wein, Digital Rainbow, Sotocolor, Chris Sotomayor
Lettering: Artie Simek, Sam Rosen, Joe Rosen, Dave Sharpe
Cover Artist: Olivier Coipel
Price: $ 6.99 US
Rating: 4 out of 5 stars
Website: www.archiecomics.com , www.marvel.com
Comments: "...To Wake The Mangog!" This is Thor as he should be in all his classic glory. Mangog is a huge hulking creature.
The story moves fast and jumps around a lot skipping from one character to another. It is great to see all these various Norse Gods. Thor though may well be the greatest of them all.
"Now Ends The Universe!" Balder is shown and he is a noble warrior of the Realm Eternal. The Warriors Three are in action, Fandral, Volstagg and Hogun. Mangog runs wild as he travel Asgard. The art is gorgeous and the story thrilling.
"The Hammer and the Holocaust!" Mangog battles Thor, its alien creature vs Norse God. This is a fearsome fight between two opponents that will not stop.
"Behind Him...Ragnarok!" The battle rages on Thor vs Mangog. Mangog leaves Thor to attack Asgard and he finds Balder leading the armies of Asgard waiting for him. The art is on a grand scale. Odin when he wakes is power incarnate.
"Thunder in the 31st Century!" The Guardians of the Galaxy, the original ones are drawn perfectly here. They find Thor adrift in space.
"This Battleground Paradise!" Korvac and his minions fight the Guardians and Thor. The art on the Guardians of the Galaxy has them illustrated in such great poses and in action.
"Out of Time!" Thor and Spider-Man team-up. They battle a small army. There is some intensity in the art.
"Marvel Adventures Super Heroes Thor # 6" Thor and the Executioner were once pirates. Which lead to adventure on the high seas. An adventure Thor uses to impress a young Nova.
"If He Be Worthy!" Loki with Thor's hammer how did that happen? He is the new protector of Midgard. Things do happen and Thor and Loki find themselves both wanting to wield Mjolnir but only one can.
"The Skrull Skull!" Here Ms. Marvel and Thor are illustrated in an animated style. Together they battle a Skrull war machine.
"The Serpent of Doom" The Avengers face Dr. Doom. He has an Asgardian weapon in his hands. This turns into the Avengers fighting the Midgard Serpent. Lots of action just it is toned down since this is a comic for a younger reader.
Thor is the Norse God of Thunder and a warrior, plus an Avenger.

Richard Vasseur