Richv1
Jazma V.P.

Canada
6626 Posts
Posted - 09/02/2017 : 10:14:09 AM
---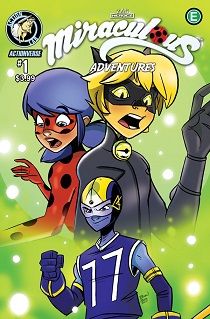 Title: Miraculous: Adventures of Lady Bug & Cat Noir # 1
Publisher: Action Lab Comics
Writers: various
Artists: various
Cover: Brian Hess
Variant Covers: Katie cook, Sara Richard, Tony Fleecs
Price: $ 3.99 US
Rating: 2 out of 5 stars
Website: www.actionlabcomics.com
Comments: "Prologue: Tales From Parts: Repetition" Created by Thomas Astruc, comics adoptation by Nicole D'Andria, written by Nolwenn Pierre, director Neil Ruffier Meray, storyboarder Fabrice Carron, art arranged by Cheryl Black and lettered by Justin Birch.
The art style is that of a cartoon. It is made for a younger audience.
Marinette has a crush on Adrien. The writing does bring across just how nervous she is about talking to him. She really does like Adrien.
"Chapter 1: Adventures of Ladybug and Cat Noir: Replay" Created by Thomas Astruc, story by Bryan Seaton, scripted by Nicole D'Andria, art by Brian Hess, letters by Justin Birch and colors by Darne Lang.
Hawk Moth strikes again. This time a young athlete feeling sorry for himself takes Hawk Moth's gift. Adrien is threatened so its time for Spots On! The colors are beautifully done. Also its Claws Out time as Cat Noir joins the fun.
Cat Noir dreams of Ladybug while Marinette dreams of Adrien. Romance is in the air.
The story is slow with almost no action. The art does not have any exciting poses.
Ladybug is an amazing character and in this younger audience book for children she is a cute and lovable heroine.



Title: Miraculous: Adventures of Lady Bug & Cat Noir # 2
Publisher: Action Lab Comics
Created by: Thomas Astruc
Written by: Thomas Astruc, Melanie Duval, Fred Lenoir & Sebastien Thibaudeau & Bryan Seaton
Art by: Brian Hess
Letters by: Justin Birch
Colors by: Darne Lang
Editing by: Nicole D'Andria & Bryan Seaton
Cover: Charlene Joaquin
Variant Cover: Tony Fleecs
Price: $ 3.99 US
Rating: 2 out of 5 stars
Website: www.actionlabcomics.com
Comments: The art is simplistic in a cartoon style.
Silurus is our villain this issue. A water based guy to protect the Seine and the fish in it. It is Spots On and Claws Out time.
Ladybug goes into action and saves a little girl. The scene though was done rather bland. It needed more excitement.
The villain Silurus he looks like a super villain. As the comic goes on he looks more silly.
Ladybug's yoyo is an interesting device with its ability to turn into the one thing she needs to win the fight.
Ladybug and Cat Noir are surprised by other super-heroes as in Doorman, Majestia, Nightowl and Birdy. Ladybug and Cat Noir are needed to help stop the menace of Trash Krakken. This is a nice set up for the next issue.

Richard Vasseur